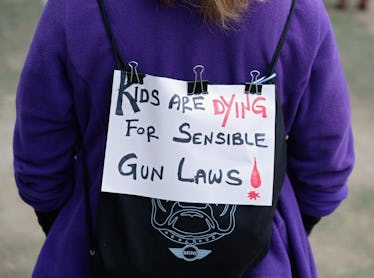 How A Mass Shooting In Her Community Made This Teen A Gun Reform Activist
Sarah Morris/Getty Images Entertainment/Getty Images
No one ever expects for a mass shooting to happen in their hometown, let alone 15 miles away from their actual home. What has always felt like a distant nightmare became a horrifying reality for my community after a shooting at the Route 91 Harvest Music Festival left 58 people dead and nearly 500 more wounded on October 1, 2017. A lot of us think we would know what to do when tragedy strikes, or we feel like we would be prepared, but it's different when it really happens.
The week after the shooting was really quiet. At my high school, absences were excused, but most of us showed up. Our teachers didn't know what to do. Some teachers didn't teach, and others couldn't stop crying. One of my teachers, Mrs. Mapes, decided to openly share her thoughts with us. As she spoke, we could see her frustration and how difficult it was for her to open up about it. She told us that going to the music festival was an annual tradition for her, and the only reason she didn't go last year was because she disliked an artist who was performing. I was stunned to realize how one small decision may have saved her life.
She said the morning after the shooting was hectic. During the morning meetings with her fellow staff, the mood was somber — it seemed like no one was really there. It wasn't until she found out that a parent of a student from her first period class had been killed, she said, that the reality of it all came crashing down.
We are tired of our representatives not doing enough to stop gun violence.
After this tragedy, I knew I had to do something, but I wasn't sure where to start. After the Parkland shooting, it became clear to me that every student had to step up. On March 14, I joined my classmates for a school walkout protesting our lawmakers' lack of action on gun safety issues. Soon afterwards, I took another step when my peers and I channeled our passion and anger into starting a Students Demand Action group at my high school. Students Demand Action is how young people are making our voices heard in the fight for stronger gun laws, demanding common sense solutions like requiring a background check on every gun sale and disarming domestic abusers. We work to register our fellow students to vote, educate our school on gun safety, and do everything we can to elect gun sense candidates. We are fighting for our generation to be represented at the polls, and aim to inspire adults to take action as well.
We are working hard to send a message to those in charge and tell them that it's time to put our safety first. We are tired of our representatives not doing enough to stop gun violence. If our lawmakers won't stand up for our safety, we must stand up to our lawmakers.
The media coverage of mass shootings only lasts so long, yet the suffering of those whose loved ones died or who were injured doesn't go away. Often, the heartbreak doesn't even make the news. A few weeks ago, a student was shot and killed outside Canyon Springs High School, again, just miles from my house. And it isn't just at schools and concerts where people are dying — according to statistics from Everytown for Gun Safety, nearly 100 Americans are shot and killed every day, and hundreds more are wounded. This is a national crisis.
We all deserve to live a life free of gun violence. Let's put an end to daily gun violence, and the collective fear of our homes, neighborhoods, schools and places of worship being the next setting for a tragedy. Let's ensure that our teachers will not have to worry about how they'd have to protect their students in case a gunman enters the classroom. Like Parkland survivor Lorenzo Prado said during a #NeverAgain rally on Feb. 21, "What we must do now is enact change because that is what we do to things that fail: we change them."
It's not time to doubt — it's time to vote.
Yes, fighting for change can be overwhelming at times, when you're not sure if you're truly making a difference. But it's not time to doubt — it's time to vote. The time to demand an end to the gun lobby's agenda is now.
Michelle Trajtman is a junior at Palo Verde High School and president of her school's Students Demand Action group. She lives in Las Vegas, Nevada.