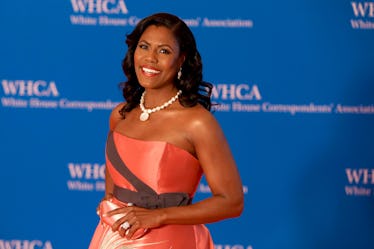 Omarosa Called Out Trump's "Bad Week" In A Perfectly Shady Tweet
Tasos Katopodis/Getty Images Entertainment/Getty Images
In a recent change of pace, Omarosa Manigault isn't the one ruining President Donald Trump's week with a tell-all book, but that doesn't stop her from dragging him on Twitter. News dropped on Tuesday, Sept. 4 that esteemed journalist Bob Woodward will be releasing a book about Trump's White House, so things are not great for the president. Leave it to Manigault to put the cherry on that sundae, because Omarosa Manigault's tweet about Donald Trump's "bad week" is so perfectly shady.
The Washington Post reported on Sept. 4 that Woodward's latest book Fear is an in depth behind the scenes look at Trump's White House. After reviewing the book, they reported that it has a lot of claims about Trump and his cabinet members, including that Chief of Staff John Kelly reportedly described Trump as an "idiot and that Trump himself is a paranoid leader who thinks "everyone's out to get [him]." Elite Daily reached out to the White House for additional comment regarding claims in the book, but did not hear back. Kelly, however, denied making such comments, while Trump did what he always does and responded on Twitter that the book is completely made up. White House Press Secretary Sarah Huckabee Sanders also said in a statement that the book was "nothing more than fabricated stories, many by former disgruntled employees, told to make the President look bad."
Clearly Trump was upset by the book, but Manigault found a way to make it a little worse. On Wednesday, Sept. 5, she screencapped Trump's latest tweet responding to Woodward's book and captioned it, "#45 is having a bad week... PrayforTheBear"
Let's start with the obvious: Trump is having a bad week and Manigault found the time to point that out. But, the real shade comes in with that last part "Pray for The Bear." That was a reference to a line originally said by Kobe Bryant, and the full quote is, "If you see me in a fight with a bear, pray for the bear."
So Manigault was apparently saying that she thinks Trump is the bear who will be defeated — and he needs all the prayers he can get. I mean, it's super clever. The only way it could have been more clever if it was LeBron James who said the original quote, given that Trump blasted him on Twitter last month.
Woodward's book comes after Manigault's Unhinged, which was released on August 14. Like Woodward's Fear, Manigault's tell-all book also makes a lot of claims about Trump and his administration, and even the title suggests a presidency that is unstable and a little manic — something Woodward's also alludes to, according to The Washington Post. But along with her book, Manigault also began releasing alleged audio and video recordings from her time serving as aide in the White House — including one that seems to indicate Trump had no idea Chief of Staff John Kelly had fired Manigault. Elite Daily reached out to the White House at the time regarding the claims in Manigault's book, but did not hear back. So when Manigault tweeted about Trump's "bad week" in light of another book that could be harmful to his presidency, most of Twitter has their eye on a single prize: "more tapes."
With two books in a row aimed at showing the dysfunction of his time in the White House, I would just correct Manigault and say that Trump's not just having a "bad week," but a bad month.