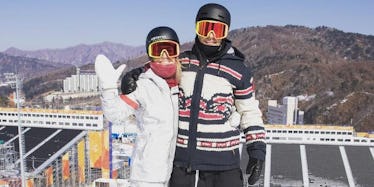 Olympians Jamie Anderson & Tyler Nicholson Are Dating & They're Incredibly Cute
The Olympics are the highest level of competition for an athlete, in which they compete among the best of the best for worldwide recognition. They train all their lives to get to this one point, bringing family and friends to witness hours of sweat, focus, and determination to win top honors. While couple Jamie Anderson and Tyler Nicholson may be representing rival countries as slopestyle snowboarding athletes – Team USA and Team Canada, respectively – their love helps them both excel on a world stage.
Anderson, 27 from Tahoe, California, and Nicholson, 22, from North Bay, Ontario, Canada, have been dating for three years, after becoming friends five years ago. "He definitely inspired me a lot when we first started dating," said Anderson to Mad to Live Blog in an interview. "He was the first one to really encourage me to do a lot of the new tricks."
Maybe Nicholson's tricks helped her out; Anderson earned the gold medal at the inaugural slopestyle event at the 2014 Winter Olympics in Sochi. Anderson repeated her historic feat Sunday, Feb. 11 at PyeongChang, where she won gold yet again — remaining the only female athlete to win gold in slopestyle at the Olympics.
At PyeongChang, the couple has shown support to one another by posting Instagram photos on the slopes. On Sunday, Nicholson posted an image of the couple hugging, and said, "Really excited to watch this one shred today."
On Monday, Nicholson posted an Instagram of Anderson with her gold medal, captioning the picture, "I'm so so soo happy for you," plus a string of emojis.
Nicholson, whose nickname is Patches, also competed at PyeongChang. This was his first time qualifying for the Olympics, where he finished seventh in the Men's Slopestyle Final. (Team USA's 17-year-old Redmond Gerrard won the gold.) Prior to PyeongChang, Nicholson won a gold medal at the 2013 FIS World Junior Championships and a silver medal at the 2017 Winter X Games. Nicholson's flying isn't limited to catching air while snowboarding, either. He's earning his pilot's license, too.
Anderson told NBC Olympics in October 2017, "He is very supportive and he is a big part of my life. We push and train with each other. Makes it that much more fun." She also told NBC Olympics that she listens to Drake, Nas, and Tupac to pump up during training, looks up to fellow gold-medal Olympian Simone Biles, and meditates before competitions to focus.
In an interview earlier this month, Anderson tells Elite Daily, "Sometimes, I just like to take five minutes in the morning to set my daily intentions so my mind can find peace before the start of the day." Anderson burns incense, uses calming crystals, and practices yoga poses like downward dog and child's pose to relax.
When they're not training or competing, Anderson and Nicholson like to take time off by traveling and visiting the other's hometowns, like your average non-Olympian couple. "During the summer, you will usually find me in Hawaii, Bali, South America or somewhere warm where I can surf, hike and relax with friends and my boyfriend," Anderson told NBC Olympics.
The couple vacationed to Kauai in September 2017 to celebrate Anderson's birthday, where they went for a swim.
Even though Nicholson didn't place this time around at PyeongChang, this couple still wins the gold medal for adorable Instagram photos and envy-worthy caption game.
Check out the entire Gen Why series and other videos on Facebook and the Bustle app across Apple TV, Roku, and Amazon Fire TV.
Check out the "Best of Elite Daily" stream in the Bustle App for more stories just like this!