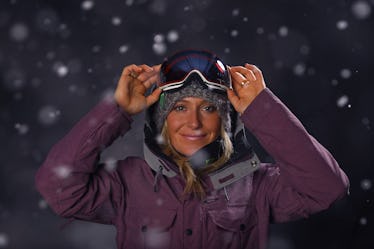 Olympian Jamie Anderson Uses Crystals To Prep For The Slopes & We Can Relate — EXCLUSIVE
Ezra Shaw/Getty Images Sport/Getty Images
Snowboarders typically have a reputation for being super chill people. They "shred" the slopes, and their moves are described as "gnarly" or "wicked." But there's one athlete who takes the word "chill" to totally new levels: Olympic snowboarder Jamie Anderson uses meditation and crystals, among other new-age spiritual practices, to help her prepare for her competitions, and TBH, it seems like it's working.
At the 2014 Winter Olympics in Sochi, Anderson made her mark in her sport by being the first ever gold medalist in women's slopestyle snowboarding, a category that had only just been born in the Sochi games. In case you're wondering what slopestyle snowboarding actually is, The Washington Post describes the sport as "a high-flying snowboarding competition featuring rails and big jumps." To say the least, it looks scary as hell, and it probably is scary as hell.
But Anderson doesn't seem to be fazed by the idea of leaping several feet into the air and landing down on an icy patch of snow-covered terrain. Watch any interview of the 27-year-old Olympian, and you'll see she has an unshakably calm, cool, collected composure. While her effortlessly good vibes definitely seem to be a natural part of her personality, Anderson tells Elite Daily in an exclusive interview that she does get a little help from some unique spiritual practices she's cultivated over the years.
To harness and protect her positive energy before a competition, Anderson has a series of calming rituals that help her get in the zone.
"Before a contest, I like to wear my turquoise and howlite mala beads," she says. "Turquoise is a protective stone, and howlite is a calming stone. They both help ground me before a competition."
With her beads held close to her heart, Anderson "cleanses the energy in the space" by burning some incense, while sipping on a "homemade golden milk made with organic milk, ghee, turmeric, and ginger," which relaxes her busy mind before an event. "It helps calm the nervous system," she tells Elite Daily.
To get her blood flowing a bit, she'll sometimes "do some yoga to stretch out my body and clear out my mind." Her favorite yoga poses, she says, are child's pose, downward dog, cat cow, happy baby, and any kind of twist. When she really needs to unwind, she'll go upside down for a rejuvenating headstand.
Anderson loves to meditate as well, although she admits that her busy schedule doesn't always allow time for it.
I think most of us can definitely relate to finding the time to incorporate mindfulness or meditation into our everyday lives. Too often, it seems like there simply aren't enough hours in the day for things like self-care or meditation. But even Anderson — a freaking Olympic athlete — manages to find the time. "Sometimes, I just like to take five minutes in the morning to set my daily intentions so my mind can find peace before the start of the day," she tells Elite Daily. As much as Anderson loves to deepen her meditation practice with things like crystals, mala beads, and incense when she has the time, she proves that sometimes, it really can be as simple as five minutes of mindfulness in the morning.
While Anderson comes from the outdoorsy and hippie-populated city of South Lake Tahoe, California, she wasn't always so tapped into her spiritual side. She tells Elite Daily that she first got into yoga and meditation after rupturing her spleen at the U.S. Open of Snowboarding in Vermont in 2009. According to ESPN, a routine "face-first" fall during a slopestyle practice took a turn for the worst when "her left knee smashed into her abdomen," which ultimately led to her ruptured spleen.
"After the accident," Anderson says, "I learned more about self-care and how important it is to take care of your mind, body, and spirit." Leave it to someone as perpetually positive as Anderson to take something as scary as a ruptured spleen, and use it as a jumping-off point for a new lifestyle focused more on self-care. #Goals, amirite?
When Anderson's not blowing our minds on the slopes, or burning incense to find her center, she loves to watch her fellow athletes crush it in the competition.
Anderson has teamed up with Comcast for the 2018 Winter Olympics, "as they take the viewing experience to new heights through Xfinity X1," the slopestyle snowboarder shares. Thanks to Comcast's Xfinity X1 Olympics Destination, she says, "Xfinity viewers will have access to every Olympics moment live across time zones on their TV and across devices, whether they're at home or on the go." When she finds time to relax in front of the TV, Anderson cheers on her favorite athletic role models, including fellow snowboarders Barrett Christy, Tara Dakides, and Tina Basich, but she's also super inspired by gold medalist and beloved Olympic gymnast Simone Biles.
When Anderson's not in front of the TV, there's always the X1 Sports App, which allows her to see scores, schedules, highlights, and more for every sport, event, and athlete in the Olympics, no matter where she is.
Be sure to catch a glimpse of Anderson flying sky-high on the slopes this February at the 2018 Winter Olympics in Pyeongchang. Maybe even fix yourself a mug of homemade golden milk in her honor.