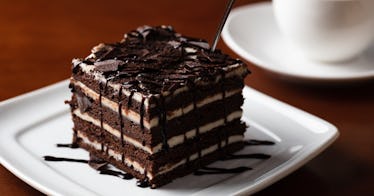 Olive Garden Just Released A Chocolate Brownie "Lasagna" That's Full Of Layered Goodness
Olive Garden
I don't quite consider myself to be "judgmental," per se, but if I'm out to dinner with you, and you don't have the strength to simply summon a "dessert stomach," I really don't think we can be friends. Sorry, not sorry — no ifs, ands, or buts. Even if I've eaten a totally unreal amount of salad, breadsticks, and pasta in the last 25 minutes, I would still be more than willing to order Olive Garden's Chocolate Brownie Lasagna, without any sort of hesitation. I mean, don't get me wrong — it sounds super intense, but I have a feeling it's going to be the dessert of my dreams.
In case you weren't already aware, Sunday, Nov. 18, is a very special day. Aside from the fact it'll be Owen Wilson's 50th birthday (wow!), it's also when Olive Garden is planning to release its latest and greatest creation to menus nationwide: the Chocolate Brownie Lasagna. Yes, you read that correctly — the limited time dessert features eight rich layers of creamy brownie fudge and tangy vanilla cream cheese, according to the press release. Then, it's carefully sprinkled with chocolate shavings, and most importantly, a dreamy chocolate drizzle. Despite the name, there are absolutely no noodles, sauce, ricotta cheese, or ground beef involved, so it goes without saying that I'll be ordering five of these, please and thank you.
While I have not yet had the chance to try OG's sweetest innovation, I can't help but gawk at these gorgeous pictures of it. To quote Freddie Mercury, "Is this the real life, or is this just fantasy?"
Is this even legal? I truly do feel like I'm "caught in a landslide, no escape from reality." Thank you, Queen.
Anyway, if you aren't already sold on Olive Garden's Chocolate Lasagna, it's a pretty cheap follow-up to a fantastic Olive Garden meal. In fact, it'll only cost you a mere $6.99, according to the press release, so really, how could you even try turning one of these babies down? Your wallet will basically thank you.
Surprisingly, this isn't the first time the Garden has blown away fans with an absolutely gorgeous layered cake. Earlier this year, in fact, you may have ordered its absolutely lovely summertime treat, which was known as the S'mores Layer Cake. It featured not one but two creamy layers of vanilla-soaked lady fingers, which were separated by a rich layer of creamy chocolate mousse, and, of course, marshmallows. All of that was topped off with a dreamy mix of crunchy graham crackers, toasted mallows, and even some chocolate crunch. Yep — for only $6.79, it was a total steal.
If you know me, you're well aware of the fact that I'm always down to order dessert. So, it should be absolutely no surprise that I'll always be willing to snag an order of Olive Garden's Chocolate Lasagna as long as I live. Just remember it's only around for a limited amount of time, so you'll definitely want to get in on these layers before they're all gone.