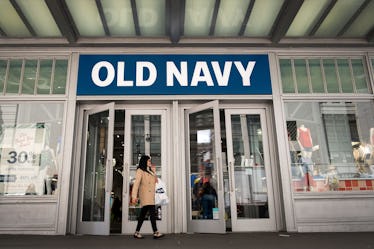 Everything At Old Navy Is Nearly Half-Off Today & Your New Summer Wardrobe Is Calling
Drew Angerer/Getty Images News/Getty Images
If all of your shopping attention is currently focused on Amazon Prime Day I advise you to get ready to redirect it stat. Old Navy's one-day sale is here to give the online retailer some major competition, so if you're experiencing outages on Amazon.com right now (yes, they're happening), fear not—you can still snag equally as great deals today on clothing and beyond, website crashes not included.
Whereas Old Navy sales typically only apply to a set selection of products, today's sale boasts discounts on literally everything on the brand's website. For one day only on July 17, Old Navy is offering 40 percent off all online purchases, meaning you'll get nearly half off of everything you load up your cart with. Swimsuits, dresses, shoes, sunnies — no matter what you go for, you're going to get a solid price slash on it all. All you have to do is enter the code "STYLE" at checkout.
The best thing about Old Navy is that its offerings tend to be classics that can be worn season after season effortlessly. Whereas other retailers like Zara roll out seasonal collections that are super trend-based and therefore go out of style within the span of a year, Old Navy's releases often become lifetime favorites. From plain tees and quality denim to floral dresses and versatile blouses, its offerings are always in.
Here are some of the best pieces to shop on the site now:
Love Wins
I <3 a good striped shirt, but this pink and white one is especially cool thanks to its statement-making heart motif. The red neckline gives it an extra special pop — wear it with a red lip for a super bright look.
Make The Cut
Because everyone needs a good comfy pair of denim cutoffs. I like this pair for their darker wash and longer length.
Bohemian Dreaming
A white dress is a must in my summer wardrobe, especially one with a decidedly bohemian feel. I'd pair this breezy beauty with black leather booties and black sunnies to edge it up a bit. You can take the girl out of New York, but...
Bon Voyage
I've been in desperate need of a weekender bag for awhile (my Herschel backpack can only fit so much!) and this iteration is perfectly summery. Perfect for the Hamptons or Malibu alike, it's the ideal size for a three-day getaway.
Feeling Blue
This sweet blue top would pair perfectly with the above denim cutoffs, creating the most effortlessly cute summer look. Its high ruffled neckline, trapeze shape, and subtle print all come together to make the perfect casual shirt.
Mellow Yellow
Another boho-inspired dress, this one features a lovely floral pattern and bell sleeves. Pair it with brown leather sandals and gold hoops for an effortless day-to-dinner look.
Geometry Class
Looking at this swimsuit is like looking at a wearable optical illusion. It's graphic pattern is rad, but its lace-up front design is even better.
Go With The Flow
There's no color combination I love more than dark blue and mustard yellow, meaning this top would be a staple in my summer wardrobe. It's breezy, comfy, and features cute subtle design details.
Happy Feet
Rainbow everything is trending at the moment, so why not invest in some colorful sandals? Brown leather grounds them while simultaneously elevating the style — they're playful chic at its best.
Earn Your Stripes
The perfect button up just got a whole lot cooler thanks to cap sleeves and an uber lightweight material. Wear it like above with white pants for a super fresh look or tuck it into a sleek miniskirt for a night out.