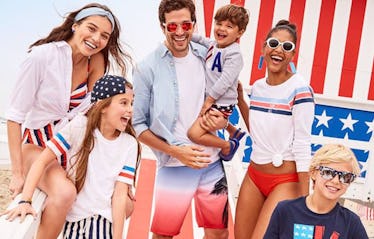 Old Navy Is Having A Blowout Fourth Of July Sale & Not Just On The Starry Or Striped
Old Navy
When it comes to patriotic attire, there's one brand that holds a special place in my heart. I would get to pick out one of their flag emblazoned tees every year for a certain Independence-based holiday—it was a purchase that never failed to excite. Old Navy's Fourth of July sale is once again upon us and along with the retailer's infamous red, white, and blue tees it includes flip flops, dresses, shorts, tanks, and so much more. Don't sleep on this festive sale!
Before jumping into some of the best items within the sale there's a story about Old Navy's iconic tees that deserves to be told. (No, it's not my own, don't worry.) As written in an email from the brand, "The Vogel-Armstrong's have made a tradition of outfitting their entire family in Old Navy Flag Tees during the 4th of July for the last 20+ years. Shortly after being re-diagnosed with cancer, the late Peggy Armstrong made an impressive quilt as a tribute of the tees and family memories collected over the years as a gift to her family."
Evidently, this action has inspired Armstrong's children and their cousins to make sure their family members all have Old Navy tees to wear for their traditional annual Independence Day photo. It's a super sweet and nostalgic way they pay tribute to their late mother and exemplifies the strong tradition these tees have within American families all over the country.
This all goes to prove that fashion as a means of commemoration and tradition can be so powerful, so why not start your own sartorial family legacy this year with some Old Navy tees? If you're not on the market for another crewneck top that's cool too. The brand's sale, which offers items at up to 50 percent off, has got something for everyone—just take a look below.
Fruity Feet
Old Navy is also famous for their uber cheap flip flops and this pair, which is emblazoned with tiny watermelon slices, just might be the cutest one of the bunch. If you're like me then your family also eats tons of watermelon over July 4th–perfect!
Suit Up
I've been on the hunt for black one piece swimsuit and this one, which features cool side cutouts and a deep v neck, might be the perfect fit.
Tee Time
Because you can never go wrong with a red top and blue jeans! Pair them with white sneakers and a red lip for an especially punchy patriotic look.
Linear Equation
Striped tees are a great staple item to own simply because of the fact that they go with everything. I love the shocking blue stripes on this one in particular—it would pair great with cobalt blue wash jeans.
Denim Daze
Because you can never have too many pairs of denim shorts, especially if they are of the boyfriend cut variety. This light was pair comes pre-distressed and looks perfectly soft and comfy. Pair them with any of the tees above and you've got yourself a knockout July 4th look.
What A Square
Gingham is my favorite summer print for a reason. It's easy to style, goes with everything, and has a decidedly breezy vibe to it. This dress would excellent with gold hoops and a pair of black heeled mules.
Liberty And Justice For All
We need to do a better job of honoring our constitution, so why not encourage universal love with this cute graphic tee? There's no better day to promote equality, respect, and love than on the day we gained our freedom as a nation.