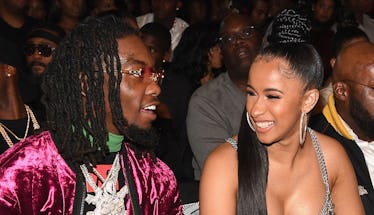 Offset Can't Stop Drooling Over This Sexy Photo Of Cardi B Because She's A Goddess
Paras Griffin/Getty Images Entertainment/Getty Images
May we all one day know the sheer admiration and love Offset showers on Cardi B. The Migos rapper just posted a smoldering photo of his wife wearing just a hot pink wig after commenting on one of her own sexy photos. His caption shows how totally obsessed he is with her, and that makes at least two of us. Well, plus her millions of fans, I guess. Cardi B is only a few weeks out from delivering her first child and looks seriously phenomenal. Offset's comment on Cardi B's sexy Instagram proves he's more in love with her than ever, and if they're having any new baby-blues or sleep-deprived nights, they sure aren't showing it.
Cardi B shared a sexy photo from inside an airplane wearing a black bra and matching underwear while rocking her aforementioned pink wig. She captioned the picture, "im on my way to you." Clearly, she was headed to wherever Offset was at the time because he commented, "HURRY HURRY HURRY." Shortly thereafter, Offset posted a nude shot of Cardi B wearing the same iconic wig. Clearly, she made it to her destination. Offset captioned the photo of his wife, "W I F E Y G O D D E S S B E A U T Y." He also threw in some tongue and wedding ring emojis for good measure.
For any haters out there, you can seriously back off. Offset and Cardi B are a match made in rapper heaven.
One of their first big appearances after the birth of their daughter, Kulture Kiari Cephus, came during the 2018 MTV Video Music Awards on Aug. 20. Cardi B opened the show holding a bundled up pink blanket that looked an awful lot like it had a baby inside of it. Even though she eventually revealed she was only jokingly carrying a Moonman statue, cameras caught a glimpse of Offset's face first. He was clearly not in on the joke. The next day, Cardi B jumped on Twitter to explain her husband's angry look. She posted: "Why Set said i was sooo mad, when i saw you on stage with that blanket I thought you was going to show Kulture."
Cardi won three awards that night — one for Best New Artist, one for Best Collaboration for her track "Dinero" with Jennifer Lopez and DJ Khaled, and one for Song of the Summer for her song, "I Like It." During her acceptance speech for Best New Artist, Cardi B spoke about her newborn baby and how haters who think she can't juggle motherhood and her career can take a hike. She said,
I'm so happy to receive this award. A couple of months ago a lot of people were saying, 'You're gambling your career! You're about to have a baby, what are you doing?' And you know, I carried the baby, I had the baby, and now I'm still winning awards!
Winning awards, being a mom, looking fierce AF in nothing but a neon wig... there's honestly nothing this woman can't do. Offset's love and admiration for her can only grow and get stronger in time, just like her wigs.