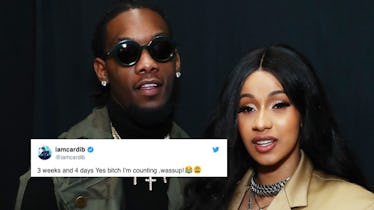 Cardi B Just Got So Real About Her Thirst To Have Sex With Offset Again After Giving Birth
Astrid Stawiarz/Getty Images Entertainment/Getty Images
It's been a little less than a month since the world was introduced to Cardi B and Offset's little girl, Kulture Kiari Cephus. On July 11, Cardi B announced that she had given birth to her daughter just the day before, and the world rejoiced. A little Bardi, ready to take the world by storm, okurrr? But as many women who have experienced the, erm, joys of childbirth know, it's not so easy to get back into the saddle with your partner. Yes, fam, we're talking about sex, and Cardi has made it very apparent that she's literally counting down the days until she can take a roll in the hay with her husband. And let me tell you, Cardi B's tweet about Offset will make you laugh and will make new moms all over the world say, "Same."
Cardi B showed off her man, hip-hop artist Offset, on Twitter, posting a picture of him in a classy AF jacket with a cowboy hat. She wrote, "Hey cowboy, I want to take a ride on your horse," and I think we all know what she's getting at. Remember: just because you've had a baby does not necessarily mean your sex drive is on vacation. Sometimes, it's the exact opposite, and you get thirsty.
One fan on Twitter commented on the photo, writing, "You probably still gotta finish healing first," next to the in-tears laughing emoji.
Well, Cardi heard that loud and clear, and was quick to reply her exact countdown. She wrote,
3 weeks and 4 days Yes bitch I'm counting ,wassup!
All hail.
One Twitter user responded to Cardi's thirsty picture of Offset with a joke, writing, "Cardi about to make baby #2" to which Cardi replied, "Can ya stop saying that If I get pregnant again imma curse ya out !!!":
Don't play about things that might actually happen, people!
In the meantime, it looks like Cardi will just have to enjoy the time spent not having sex in some other way, like adoring her little daughter, Kulture.
And now that Cardi B is no longer touring with Bruno Mars, she should have *plenty* of time to do just that.
In her announcement on Twitter, Cardi got real with fans, telling them that being on tour is not the best option for herself or for Kulture. She wrote,
As of today I've decided I won't be joining Bruno on tour this Fall. I thought that after giving birth to my daughter that 6 weeks would be enough time for me to recover mentally and physically ... Not only am I just not ready physically, I'm not ready to leave my baby behind since the doctors explained it's not healthy for her to be on the road. I hope you guys understand that this decision has been the hardest to make but I have to do what's best for myself and my baby! Thank you Bruno for being so supportive and understanding.
OF COURSE, we understand (and anyone who doesn't should just be 100% ignored), and we hope that Cardi can enjoy this time with her new family. And, by the sound of it, she'll also be enjoying some alone time with her man very soon.