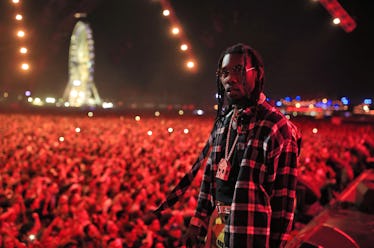 Cardi B's Fiancee Offset Was Reportedly Hospitalized After A Car Crash
Christopher Polk/Getty Images Entertainment/Getty Images
TMZ first reported that rapper Offset, whose real name is Kiari Kendrell Cephus and who is one-third of the trio Migos — reportedly suffered minor injuries after his lime-green Dodge Challenger was wrecked in Atlanta on Wednesday, May 16. Offset was reportedly hospitalized after the car crash, and his fiancée, Cardi B, rushed to his side, according to TMZ. Elite Daily has reached out to Offset and Cardi B's representatives for comment on the crash and Offset's condition, but did not hear back immediately. He has reportedly been released from the hospital — though there is no official confirmation of this from his team — and I hope he's OK.
According to local law enforcement, per TMZ, no police or emergency medical workers were called to the reported crash scene and no accident report was taken. Offset's reportedly wrecked car was later towed. The UK's Daily Mail newspaper reported that the rapper reportedly got "banged up" and his "muscle car was totally destroyed," citing anonymous sources.
TMZ reported that Offset "is expected to be OK." Cardi B tweeted to Offset Tuesday afternoon, May 17, saying "I love him Soo much." She didn't address the reported crash or his injuries, but she's been active on Twitter promoting her new single with Jennifer Lopez.
"How ya liking the new single DINERO BY @JLo @djkhaled AND ME ? I loveee it!!!" she tweeted. Cardi B is pregnant with the couple's first child, and officially confirmed her pregnancy during an SNL performance in April.
Offset reportedly proposed to Cardi in October 2017, per The Daily Mail, while on stage in Philadelphia. They were often seen holding hands and going on shopping sprees together last summer, which fueled rumors that they might be dating.
Cardi all but confirmed those dating rumors with her debut album, aptly titled, Invasion of Privacy, which was released in April. On one of her singles, "Bartier Cardi," she raps, "Cardi took your man, you upset, uh / Cardi got rich, they upset, yeah / Cardi put the p*ssy on Offset (Say what?) / Cartier, Cardi B brain on Offset (21)."
She also addressed their rumored rift due to Offset's alleged infidelity on her track, "Be Careful," which is the song she performed on SNL to reveal her pregnancy. She appeared to confirm in late 2017 that she was still with Offset, despite the rumors that he cheated on her with an Instagram model. (These rumors have not been confirmed by either party.)
In an interview with Cosmopolitan in March, she said she was tired of being asked about Offset's rumored infidelity. Cardi said,
It's like everybody is coming down my neck, like, 'Why are you not leaving him? You have low self-esteem.' I don't have low self-esteem. Bitch, I know I look good. I know I'm rich, I know I'm talented. I know I could get any man I want — any basketball player, football player. But I want to work out my shit with my man, and I don't got to explain why. I'm not your property. This is my life.
The couple definitely has had their very public ups and downs. More recently, at the May 8 Met Gala in New York City, the duo was reportedly involved in a brawl that took place after the event, per TMZ. Giovanni Arnold, who has since filed a lawsuit against Cardi B and Offset, reportedly waited outside a Met Gala after-party seeking an autograph, when he claimed that Cardi walked out and Offset shouted at him to get out. He claimed that three of their bodyguards subsequently attacked him, per TMZ. TMZ reported that Cardi B's team claimed Arnold was "super aggressive and obnoxious." Elite Daily reached out to representatives for Offset and Cardi for response to this lawsuit, but did not hear back immediately.
Through thick and thin, they've found a way to keep it going, though. Cheers to Cardi B and Offset for being the frontrunner for most persistent couple of 2018. It seems like their relationship can survive anything thrown at it.