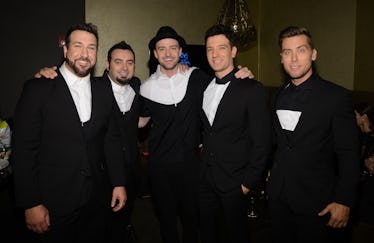 NSYNC Did Not Reunite At The Super Bowl & '90s Kids Are Tearing Up Their Hearts
Larry Busacca/Getty Images Entertainment/Getty Images
As soon as rumors of another Justin Timberlake halftime show began swirling, people started wondering if *NSYNC would reunite at the Super Bowl. Can you imagine the in-sync choreography? Lance Bass's highlights glistening under the lights of the arena? Justin Timberlake hitting those high notes surrounded by the four boys — OK, I guess they're men now — who have supported him since he was literally 14 years old?! It'd be a lot to handle.
And while it would have been truly incredible to have an *NSYNC reunion take place at the Super Bowl, it didn't happen. Timberlake kicked off the show solo with "Filthy" and "Rock Your Body," then segued into "SexyBack," "My Love," "Cry Me A River," "Suit And Tie," "I Would Die For You" (by Prince, more on that below), "Mirrors," and "Can't Stop The Feeling."
Of course, if you remember his last halftime show when he performed with Janet Jackson, you might recall that he was singing "Rock Your Body" when that "wardrobe malfunction" occurred. Whether he intentionally meant the 2018 performance of the song as a throwback to that moment or not is tough to say — but it's hard to escape the significance of the song.
Timberlake also performed a tribute to Prince alongside a hologram of the late Minneapolis-born singer. He performed "I'd Die For You" under purple lights.
The show was a hit — even without *NSYNC there to back him up.
Joey Fatone actually kicked off the rumor mill back in October when he told TMZ Sports that if J.T. signed on for the show and if all five band members happened to be free, a reunion might be possible. It all sounded pretty tentative. He said:
We've done Super Bowl before... you know what, it's one of those things. Just like we did the MTV awards... You know, if someone asks to do it, if it's right, then we do it. If everybody can't do it, then we don't do it. It's pretty simple.
He also joked, "Hope there's no nip slip this time," referring to the wardrobe malfunction seen 'round the world back in 2004, when Timberlake performed with Janet Jackson at Super Bowl XXXVIII.
Of course, the NFL soon confirmed that Timberlake would be given the coveted honor of playing the halftime show. The reunion rumor was tearin' up my heart — and I'm not the only one who's feeling left on ice.
People wanted to know if *NSYNC would get back together for a performance at the Super Bowl LII.
Because basically, since *NSYNC didn't perform, what was even the point of the Super Bowl?
Don't talk to me about sports. That's not what this is about.
Unfortunately, Fatone, who might as well be the Super Bowl Rumor Whisperer of the decade, talked to TMZ Sports again in late January — and this time, he made it sound like an *NSYNC reunion would be out of the question.
"I'm here right now," Fatone explained to a reporter. "If I was doing something, I'd be at rehearsals right now. So obviously, there's your proof. Nothing."
"And there's nothing wrong with that," Fatone said. "He's doing his thing."
Diehard *NSYNC fans might remember that the last time the band got together for a performance was in 2013, when Timberlake received the Video Vanguard Award at the MTV VMAs. Prior to that gig, the bandmates also claimed to have no involvement in the show. But this time, they were serious. There was no reunion and fans are sad.
Timberlake's fourth solo album, Man of the Woods, dropped two days ago on Feb. 2. "Filthy" was the only new song off that album that he performed during the show.