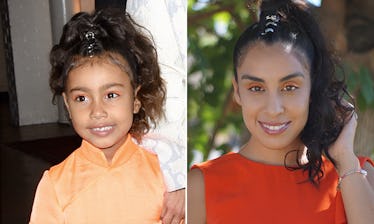 North West Wore Orange Eyeliner & A High Pony, So I Wore Orange Eyeliner & A High Pony
MediaPunch/Shutterstock/Stephanie Montes
My fashion and beauty looks are inspired by tons of things: Old movies, Instagram tutorials, celebrities, really anything, but I never expected to be inspired by a kindergartener. In my defense though, this isn't just any kindergartener, it's Kim Kardashian and Kanye West's daughter North, and the look is really good — and not just for a five year old, but for anyone, period. North West wore orange eyeliner and a ponytail, and I couldn't help but try it myself.
On Sept. 29, the child fashionista pulled out all the stops for dad Kanye West's Saturday Night Live performance. Nori moved in on her mom Kim's makeup artist for a bright orange cat eye to match her orange dress. She even got celebrity hairstylist Chris Appleton (the man behind Kim Kardashian, Ariana Grande, Jennifer Lopez, and aunt Kylie Jenner's best hairstyles) to create a high ponytail with a pierced braid down the middle. I don't have a Kardashian-approved glam squad to help me copy North West's adorable look, but I've had plenty of practice recreating Ariana Grande's braided ponytail look and I wear a cat eye every day — I usually only wear black eyeliner, but I'm up for a wing in a bright poppy color.
To recreate Nori's ponytail, I created two center parts and grabbed a section down the middle. After I pulled the rest of my hair out of the way, I started braiding the center from the front of my hairline to the crown of my head. Next, I secured the braid with a tiny elastic and pulled the rest of my hair into a high ponytail. Just like North West, I have a ton of baby hairs, so I used a toothbrush (one I use only on my hair) and hairspray to comb them into place along my forehead. Finally, to create the look of perfect, 5 year-old bouncy curls, I used a skinny curling iron to curl small sections of my hair at a time. I like the T3 Defined Curls 1" Clip Barrel ($85; sephora.com) Finally, it's not a lewk until you embellish with the hair rings. The ones I'm wearing are the Chloe + Isabel Tassel Braid Charms ($38; chloeandisabel.com).
As for the makeup, North is still a little young for a full-on face of makeup, so I kept it really natural-looking too. Besides, the focus should really be on the bright eyeliner anyway. Speaking of which, to create the bright wing, I used the orange paint color in the Wet n Wild Fantasy Makers Painters Palette Brights ($6; wetnwildbeauty.com) and an angled brush.
This is certainly the first time I've ever taken style advice from a child, but you better believe I'll be keeping my eye on North West for fashion and beauty inspiration from now on. I'm not sure what the 5 year-old wants to be when she grows up, but I wouldn't be the least bit surprised if she joined any of the family beauty businesses — after all, she has plenty to choose from.