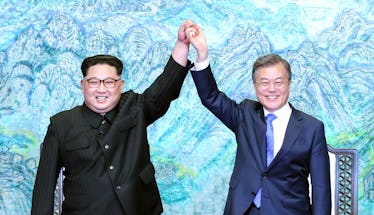 North Korea Threatened To Cancel Its Meeting With Trump, So Here We Go Again
Pool/Getty Images News/Getty Images
Months of negotiations — which included back-and-forth trips by the new secretary of state and the release of American prisoners — led to a historic moment earlier in May, when President Donald Trump announced a specific date for a meeting between he and North Korean leader Kim Jong-un. Now, all of a sudden, there's talk about that historic meeting going up in flames. That's because on Wednesday, May 16, North Korea threatened to cancel its meeting with Trump, via a statement from the reclusive nation's vice foreign minister.
"If the Trump Administration is genuinely committed to improving NK-US relations and come out to the NK-US summit, they will receive a deserving response," the minister, Kim Kye-gwan, said in a statement, per CNN's translation. "But if they try to push us into the corner and force only unilateral nuclear abandonment, we will no longer be interested in that kind of talks and will have to reconsider whether we will accept the upcoming NK-US summit."
Minister Kim's suggested that North Korea was specifically taking offense to the words of John Bolton, Trump's national security adviser. In late April, Bolton told CBS News that the United States was considering using the Libya model to negotiate with North Korea.
During former President George W. Bush's administration, for which Bolton served, Libya leader Moammar Gadhafi agreed to stop developing nuclear weapons in exchange for relief from sanctions that had been issued on the African country because of its weapons program. Years later, Gadhafi was filmed dead in the streets, being dragged after a revolution led by rebels that had American support, during the Arab Spring that occurred while former President Barack Obama was in office.
"This is not an expression of intention to address the issue through dialogue. It is essentially a manifestation of awfully sinister move[s] to impose on our dignified state the destiny of Libya or Iraq, which had been collapsed due to the yielding of their countries to big powers," Kim Kye-gwan said in Wednesday's statement, per The Washington Post's translation.
"We shed light on the quality of Bolton already in the past, and we do not hide a feeling of repugnance towards him," Kim added.
Despite the statement seemingly throwing a curveball at the Trump administration as it plans for the first ever meeting between a U.S. president and a leader of the Kim regime — which has been in power since the 50s — the news of North Korea's latest statement seems to have been met with a collective shrug at the White House.
On Wednesday morning, White House spokeswoman Sarah Sanders said that the combative statement was "something that we fully expected."
"The president is ready if the meeting takes place," Sanders said, per CNN's Kaitlin Collins. "And if it doesn't, we will continue the maximum pressure campaign that's been ongoing."
Sanders also addressed the idea that the Trump administration was looking to use the Libya model to negotiate with North Korea.
"I haven't seen that as part of any discussions so I'm not aware that that's a model that we're using," Sanders said, per CNN's Abby Phillip.
On Thursday, May 10, President Trump expressed excitement at settling a date for his meeting with Kim.
"The highly anticipated meeting between Kim Jong Un and myself will take place in Singapore on June 12th," the president tweeted. "We will both try to make it a very special moment for World Peace!"
But if there's any reason for his administration to not be surprised that it's been met by a threat to cancel the meeting, it's because North Korea's history of issuing such threats is well documented.
Instead, another reaction is more appropriate: Here we go again.