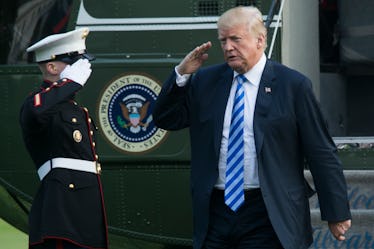 A Date Is Set For Donald Trump's Meeting With Kim Jong-Un, So Get Ready
Pool/Getty Images News/Getty Images
For months President Donald Trump and his administration have talked, and been asked about, a meeting between he and North Korea's leader. Now, we know for sure where and when Trump and Kim Jong-un are meeting. The president announced those details via Twitter on Thursday, May 10.
"The highly anticipated meeting between Kim Jong Un and myself will take place in Singapore on June 12th," Trump tweeted. "We will both try to make it a very special moment for World Peace!"
The announcement of a definitive date comes two months after the White House first announced a meeting between Trump and Kim — two leaders on opposite sides of a feud that has lasted seven decades. That particular White House announcement came in March, when Chung Eui-yong, South Korea's national security adviser, extended an invitation to meet, from Kim to Trump.
"He [Trump] will accept the invitation to meet with Kim Jong Un at a place and time to be determined," White House press secretary Sarah Huckabee Sanders said in a statement on May 8. "We look forward to the denuclearization of North Korea. In the meantime, all sanctions and maximum pressure must remain."
The meeting between Trump and Kim is now set to be the first between a sitting American president and a North Korean leader.
Trump's announcement comes on the same day that the president welcomed home three American men who had been detained in North Korea, each of whom had been held for at least a year. The release of the three men came as a result of new Secretary of State Mike Pompeo's most recent visit to North Korea, the White House announced in a statement on Thursday, describing the release as a show of goodwill.
"During Secretary Pompeo's visit, the North Korean leadership released three American detainees," the statement read. "President Trump appreciates leader Kim Jong Un's action to release these American citizens, and views this as a positive gesture of goodwill. The three Americans appear to be in good condition and were all able to walk on the plane without assistance."
Pompeo's visit to North Korea was his second in six weeks. The first of those two visits was announced by Trump on April 18. "Mike Pompeo met with Kim Jong Un in North Korea last week," Trump tweeted. "Meeting went very smoothly and a good relationship was formed. Details of Summit are being worked out now. Denuclearization will be a great thing for World, but also for North Korea!"
Throughout the past months, Trump and his White House have constantly repeated that the stated mission of the meeting is exactly what the president's April 18 tweet (and others) have mentioned: denuclearization, an end to North Korea's development of nuclear weapons.
The United States, over multiple administrations, has long sought to deter North Korea from developing nuclear weapons, and has repeatedly imposed sanctions on the Kim regime, which has been led over the past seven decades by three leaders in the family, for not ending its weapons program.
However, during a historic meeting in April between Kim and South Korean President Moon Jae-in, the two leaders signed a statement that signaled a willingness to achieve denuclearization.
South and North Korea shared the view that the measures being initiated by North Korea are very meaningful and crucial for the denuclearization of the Korean Peninsula and agreed to carry out their respective roles and responsibilities in this regard. South and North Korea agreed to actively seek the support and cooperation of the international community for the denuclearization of the Korean Peninsula.
At the time, President Trump expressed his glee at the meeting between the two leaders of the Korean peninsula, tweeting that it was an encouraging sign for talks between the United States and North Korea. Now that the date for those talks has been decided, we will see whether the signs of the past few months translate to a tangible foreign policy success.