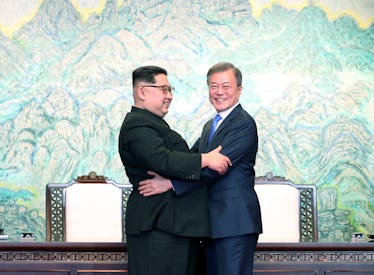 Kim Jong-un Visited South Korea & Trump Couldn't Hide His Excitement
Pool/Getty Images News/Getty Images
History was made on Friday, April 27. For the first time since the Korean War in the 1950s, a North Korean leader crossed the border that separates it from the southern half of the Korean peninsula, as Kim Jong-un met South Korean President Moon Jae-in for a peace summit. The two leaders met, shook hands, hugged, and called for a "new history," which prompted President Donald Trump's reaction to Kim Jong-un's South Korea visit.
Trump tweeted early Friday morning, "After a furious year of missile launches and Nuclear testing, a historic meeting between North and South Korea is now taking place. Good things are happening, but only time will tell!"
About 15 minutes later, the president exclaimed, "KOREAN WAR TO END! The United States, and all of its GREAT people, should be very proud of what is now taking place in Korea!"
The meeting did indeed see both Kim and President Moon agree to work towards officially declaring an end to the Korean War — the fighting between parties involved only ended via armistice in 1953, but no actual peace treaty was ever signed. Kim and Moon also agreed to seek the "common goal" of denuclearization on the Korean peninsula or, in other words, a plan that would result in North Korea giving up its weapons of mass destruction.
A statement signed by both leaders read, per The Washington Post,
South and North Korea shared the view that the measures being initiated by North Korea are very meaningful and crucial for the denuclearization of the Korean Peninsula and agreed to carry out their respective roles and responsibilities in this regard. South and North Korea agreed to actively seek the support and cooperation of the international community for the denuclearization of the Korean Peninsula.
There's an obvious "but," though. Verbal agreements are one thing; those agreements coming to actual fruition is a whole other. Plus, reports have noted that the agreements between the North and South on Friday were short on details.
"This provides the political space for Trump to have his own summit with Kim," Duyeon Kim, a visiting fellow at the Korean Peninsula Future Forum in Seoul, told The Washington Post. "Whether or not Kim Jong-un means it is a completely different story."
If not for actual, tangible progress, though, the meeting between Kim Jong-un and Moon Jae-in was still historic, if only for the optics. At one point, the two leaders held hands as they crossed over the border together, once from south to north and back, from north to south.
At one point, Kim joked about his counterpart not getting a good night's sleep because of all the nuclear tests that North Korea had conducted. "I heard you had your early-morning sleep disturbed many times because you had to attend the NSC (National Security Council) meetings because of us," Kim said, per The New York Times. "Getting up early in the morning must have become a habit for you. I will make sure that your morning sleep won't be disturbed."
Inside the Peace House near Panmunjom, the "truce village" where the two leaders met, Kim Jong-un's sister, Kim Yo-jong, sat by his side at a table featuring leaders from both the north and the south. In February, during the Winter Olympics in PyeongChang, Kim Yo-jong herself had a historic meeting with South Korean leaders, during which she invited President Moon to North Korea.
The meeting saw the two leaders agree to a Moon visit to the North in fall. Now, focus will turn to another meeting, a planned visit that will see President Trump and Kim Jong-un meet face-to-face. In the meantime, Moon Jae-in has indicated he will play a mediator's role.
"What we can do is to try to help the North and the United States reach an agreement, helping them narrow their differences and seeking and presenting practical ideas both sides can accept," Moon said, per The Times.
As Trump said Friday, "time will tell."