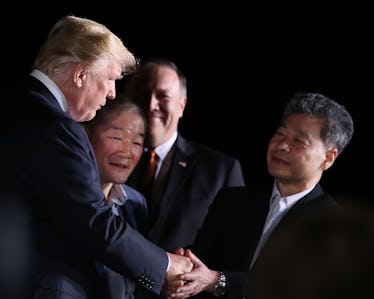 The Prisoners Released From North Korea Have Landed In The US & They're So Happy
Mark Wilson/Getty Images News/Getty Images
On Wednesday morning, May 9, President Donald Trump expressed his pleasure in announcing that three Americans who had been detained in North Korea were returning to the United States. Fast forward a couple of hours past midnight Thursday, and the video of North Korea's hostages landing in America's mainland was filling the airwaves of news networks. On the formerly detained Americans faces were visible expressions of triumph, with the three men raising their hands above their heads as they were greeted by U.S. officials and media members at Joint Base Andrews, a military airbase in Maryland.
The three former prisoners were all detained in North Korea for at least a year. They were released after new Secretary of State Mike Pompeo traveled to North Korea for the second time in six weeks, in order to negotiate the terms of an imminent meeting between North Korean dictator Kim Jong-un and President Trump.
So, when Trump was questioned by the media at Joint Base Andrews, he was asked about what the release of the prisoners means within the context of negotiations between the United States and North Korea.
"Hopefully everything is going to work out at the highest level," the president said, alluding to a much loftier goal than the release of prisoners: denuclearization in North Korea. "We want to thank Kim Jong-un, who really was excellent to these three incredible people."
The longest held prisoner of the three is South Korean-born Kim Dong-chul. The 62-year-old man was arrested in October 2015, and convicted in March 2016 of spying on North Korea. He was sentenced to 10 years of hard labor.
Tony Kim is another former prisoner. He had been arrested while boarding a plane to leave North Korea in April 2017, with the country announcing that he was being held for "hostile criminal acts with an aim to subvert the country." Prior to his arrest, Kim had been teaching accounting at a school in Pyongyang, North Korea's capital.
A month later, Kim Hak-song was arrested, after working at the same university as Tony Kim. The Korean Central News Agency reported that he was arrest for "hostile acts," according to Time.
On Thursday morning, as the three Americans walked down a flight of steps after landing at Joint Base Andrews, their condition marked a great contrast from that of Otto Warmbier, an American prisoner who had been released by North Korea in June 2017.
"President Trump appreciates leader Kim Jong Un's action to release these American citizens, and views this as a positive gesture of goodwill," a White House statement read on Wednesday. "The three Americans appear to be in good condition and were all able to walk on the plane without assistance."
Warmbier did not enjoy a similar condition. The 22-year-old had arrived back in the United States in a coma, and died days after his arrival on American soil.
North Korea's reputation for its treatment of Warmbier, among other acts, makes for a situation in which two separate messages come out of Washington. Some members of the Trump administration — looking forward to negotiations — are complimentary to Kim Jong-un, while at the same time others criticize North Korea.
State Department spokeswoman Heather Nauert said days before the prisoners' release,
We must not forget the millions of North Koreans who continue to suffer under one of the most repressive and abusive governments in the world. For more than 60 years, the people of North Korea have faced egregious human rights violations in virtually every aspect of life. In addition to the roughly 100,000 individuals, including children and family members of the accused, who suffer in political prison camps, North Koreans face an almost complete denial of fundamental freedoms by their government.
Whether the release of prisoners is truly the start of better relations between the United States and North Korea remains to be seen.