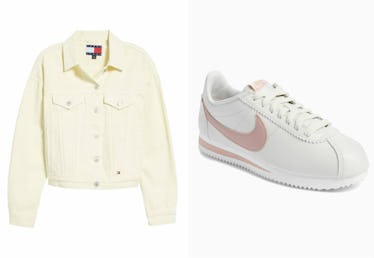 Nordstrom's Winter Sale Is Happening RN & It's A Casual 40 Percent Off Your Fav Brands
Nordstrom
Let's be real; there are likely still months of frigid days and snowy nights left until springtime truly hits. East coast peeps, I'm looking at you. I'm not saying this get you down, but rather to give you an excuse to shop Nordstrom's Winter Sale, which is currently underway. (As if you needed an excuse, anyways, am I right?) The price-slashing is so epic that you might actually want cold weather to last a little longer this year so you can wear all of your new buys — the items offered are really that good.
Although it launched a few days ago, the sale will continue on through Feb. 25th, so you've got plenty of days to peruse its offerings. Considering over 11,000 products have been discounted at up to 40 percent off, you'll need all the time you can get. From Adidas and Free People to Topshop and Calvin Klein, the brands within the sale are definitely ones to lust over.
It's not all puffer coats and boots, either. Along with winter staples, discounts also apply to heeled sandals, light trench coats, floral dresses, leather handbags, and more. Essentially, items that will help you build out your wardrobe, no matter what season you're shopping for. I've included a few of the best pieces from the sale below but seeing its colossal size, I'd highly recommend you check it out yourself.
Tell Me About it, Stud.
Usually I'm not a loafer lover, but this style's edgy silver studs and dark floral pattern has changed my mind. Wear a pair of these with socks in colder weather or a cute black mini when the sun's out.
Fuzzy Feelings
This is my dream athleisure piece thanks to its velvety sheen and geometric construction. I could just as easily wear it with a mini skirt for a night out as I could with pajamas for a night in.
Rain and Shine
A metallic jacket that's also reversible and rain resistant? What more could you want?
Silver Linings
If you, like me, die anytime you wear heels that are more than one or two inches tall, these booties might be for you. Shiny, and with a pointy toe, they're super on-trend. Your feet will thank you.
Wrap Star
The silhouette of this top is killer, but its cool wrap design and bow detail are what really makes it stand out. Wear it with pants, shorts, or a skirt — it's the ultimate transitional wardrobe piece.
Check, Please
The perfect answer to mid-season dressing, this lightweight coat will be perfect for spring and fall. It's classic plaid print ensures it'll never go out of trend.
Flow With It
I love this dress for its effortlessness. It can be worn with literally any shoe style and has a billowy, comfortable shape. My idea of the perfect LBD.
Cherry Baby
A bag to turn heads! This mini backpack is slightly punk and very ideal for festival season.
Sweet Frills
These shorts are what sun-soaked summer dreams are made of! I love their faded color palette, sweet lace detailing, and dainty rose embroideries.
Tied Up
I love a hoodie that combines fashion and function. This one is undoubtedly comfy but features cool design details that elevate it to an everyday staple.
City Garden
Gingham, floral embroidery, and a retro mini silhouette. Dream dress? I check.
Top Rated
It can be hard to incorporate a little color into your wardrobe during winter months, especially if your go-to coat is a dark color. This cute pom pom-topped hat will not only brighten up your look, but it'll add a dash of playfulness as well.