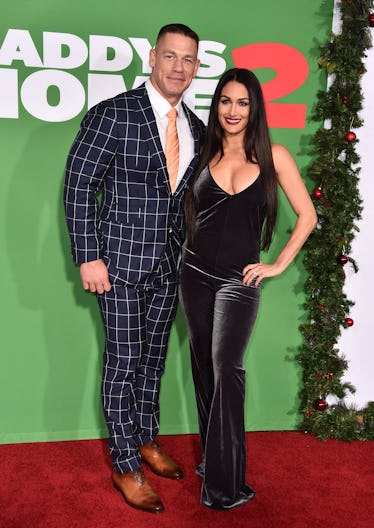 Nikki Bella's Comments About Her & John Cena's Relationship Status Will Bum You Out
Alberto E. Rodriguez/Getty Images Entertainment/Getty Images
They planned their wedding, then they called off their wedding. He said he didn't want kids, then he said he would have kids. It's been a crazy couple of years for Nikki Bella and John Cena, and I can't even begin to imagine how hard it is for them to go through it all in the public eye. I mean, I seriously love these two and just want them to be together forever. But it doesn't look like that's going to be happening anytime soon, since Nikki Bella's comments about her and John Cena's relationship status are pretty bleak. And no matter how many times I try and break it down, her answers don't change.
What happened was this: Nikki and her twin sister, Brie Bella, stopped to chat with ET at the iHeart Radio Music Festival in Las Vegas over the weekend, where Nikki let it fly that she is currently on the market.
"I've got to admit I am single," the Total Bellas star explained. "But I'm not ready for mingling yet."
"You've gotta find yourself first," Brie interjected.
"I do," Nikki agreed.
OK, so there's no real reason to panic, yet. I mean, Nikki just said she's not ready to mingle so that totally leaves the door open for Cena to slide back in, right? Not so fast. Because Nikki later revealed that she and Cena don't talk or even text anymore.
"He's doing him and I'm doing me," she explained.
I'm not OK. But the reason Nikki has gone solo is actually pretty empowering, so I guess Imma need to get on board real quick.
"I just feel like I'm at that age where I'm discovering who I really am and what I want out of life and just, like, independence," Nikki explained to ET. "It's scary and you do have these moments of like, 'What am I doing?' and you have fear. I'm just kind of liking the challenge and that fear because it's forcing me to be out of my comfort zone."
As much as this new development sucks for all of us Bena shippers, I have to admit that I am loving this liberated version of Nikki, so YAS, QUEEN! I mean, it's been a long road since Nikki and Cena first got engaged back in April 2017 during an appearance at Wrestlemania 33.
They split just a year later, but then rumors starting circulating that the couple had reconciled, after Cena reversed his decision about not wanting to have kids on Kathie Lee and Hoda last May. "I would love to marry Nicole," he said. "I love her. I want to be with her. I want to make her my wife. I want to be the father of her children."
The whole relationship seemed to be on the path to reconciliation until two months later when Nikki posted an update on The Bella Twins YouTube channel explaining that she and Cena were "just friends":
So yeah, it's sad to see this long-term relationship come to an end, but hopefully both Nikki and Cena will now be able to find the true happiness in life that they both deserve.