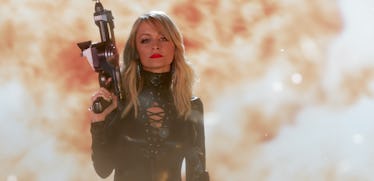 Nicole Richie Made A Parody Of Taylor Swift's "Bad Blood" & It's Actually Pretty Good
Youtube
Taylor Swift was kind of asking for it when she made such an epic(ly terrible? awesome? funny?) music video like "Bad Blood." Now, NBC's show Great News has taken the bait. In a recent episode, Nicole Richie does a "Bad Blood" parody with Tina Fey and it's... I don't know... kind of funny?
If you remember, "Bad Blood" was a dominatrix romp in which Taylor Swift and a series of fellow female warriors battle... someone? (Mostly Selena Gomez, from what I can tell.) In the original music video, cameos are made by celebrities like Gigi Hadid, Ellen Pompeo, Lena Dunham, Zendaya, Jessica Alba, and more. In the video, the squad members have epic nicknames like Catastrophe, Slay-Z, Frostbyte, and Mother-Chucker.
Lots of leather. Lots of metal. Lots of flames.
In Nicole Richie's parody, she has a similar roster of famous names, but they're less supermodels and more comedians. In the spoof, there are cameos by Horatio Sans, Andrea Martin, and John Michael Higgins. Their nicknames are a little less specific and little more hilarious, like Kick-Splosion and You Pick For Me I Don't Care.
If you aren't following the show, here is the plot:
The series [Great News], set in the world of television news, follows an up-and-coming news producer who finds herself dealing with a new intern: her mother.
Sounds kinda dumb, but in a good way. Much like this parody.
In the video, Nicole Richie, who plays news anchor Portia Scott-Griffin, has started a fight at work. Her boss, Diana St. Tropez (played by Tina Fey), reads about the conflict online and must stop it.
Fey's character sets up the parody by reading the headline,
Shots Fired: Portia Scott-Griffith declares squad feud with MMN boardroom b*tch.
Cue the music video.
Let's be real: Nicole looks insane. She rocks that pleather jumpsuit like "Oops I Did It Again" Britney Spears, which we all know is the best kind of Spears, and looks as fierce as the real deal.
The lyrics Richie repeats are,
You know you better wash dish, bish / I've had enough of your ish bish / I'm a famous and rich bish / so you better wash dish, bish.
No, I don't have context clues about the dish references, but yes, the lyrics are alliteratively pleasing to listen to.
Apparently, it's Fey's character's job to straighten the news show out on the series. Fey explained to TV Insider,
She thinks the show could be a lot better. As the new owner of MMN, it's St. Tropez's goal to get the failing cable news channel out of the ratings dumper and into the national spotlight. Along the way, she will also unsettle her new minions with her no-B.S. approach to getting the job done.
As for T-Swift's feelings on the parody? No word, but just a reminder that imitation is the greatest form of flattery.
It's also sort of becoming Taylor's "thing" to dress up in outrageous costumes and become various versions of herself, anyway. In her latest "Look What You Made Me Do" music video extravaganza, Swift makes fun of herself, metaphorically "killing" past Taylors. (I know. It's heady.)
If you recall, we see her standing on top of a giant heap of old Taylors, and then at some point — for some reason — they all fall into a black void, presumably to their deaths.
You guys remember...
It was crazy.
Overall, Richie looks great. The parody is pretty funny. Taylor Swift does choreography now.
The world spins on.
Check out the entire Gen Why series and other videos on Facebook and the Bustle app across Apple TV, Roku, and Amazon Fire TV.