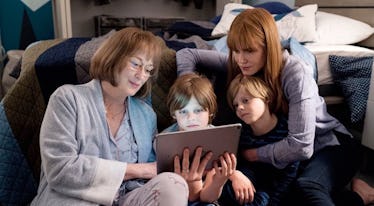 Nicole Kidman Reveals Set Details About Meryl Streep On 'Big Little Lies' & Fans Want More
HBO
The second season of Big Little Lies can't come soon enough! Yes, we're all excited to check back in with the moms of Monterey and witness the fallout of their murder coverup from Season 1, but the real excitement for so many fans is Meryl Streep joining the cast. And it's not just viewers who are pumped about Streep's new role — Nicole Kidman's quotes about Meryl Streep on Big Little Lies reveal that everyone on the cast is fangirling out just as much as we all would, and Kidman also dropped some hints about what we can expect from Streep's character.
While at the American Country Music Awards on Sunday night to support her husband Keith Urban, Nicole Kidman talked about working with Meryl Streep on the upcoming second season of Big Little Lies to Entertainment Tonight. Kidman revealed that the whole cast was stunned while watching Streep work with them:
It's so good. She's just amazing, and to watch her do her craft, it really is artistic craft when you watch her, we're all — Laura Dern, Shailene [Woodley], Zoe [Kravitz], Reese [Witherspoon] — we just go, *gasps* "Can you believe it?"
At the beginning of 2018, HBO revealed that Meryl Streep is joining Big Little Lies Season 2 as Perry Wright's mother, Mary Louise Wright. Of course, the role of Perry's mom raised eyebrows among Big Little Lies fans, since the first season ended with Perry's death. After it was revealed that Perry raped Jane and abused Celeste, Bonnie pushed him down a flight of stairs, which ended up killing him. Afterwards, all the women agreed to cover up Bonnie's role in Perry's death.
It is unclear whether Mary Louise Wright will be an ally or antagonist for the Monterey women. A first-look image reveals shows her smiling alongside Celeste and her twin grandsons, but she clearly poses a threat to the secret about Perry's death that all the women will be trying to keep covered up. Regardless of whether Mary Louise winds up being a hero or villain, Nicole Kidman gushed that the role is based in something very real:
She's got a fantastic character. It's also grounded and it's based in something very, very real, and we hope we bring you the [best] second season and it delivers. We're working hard.
You watch listen to Nicole Kidman's full interview below, which also includes Keith Urban fielding a question about a possible cameo on Big Little Lies:
Clearly, everyone seems to be having a great time in production on Season 2 of Big Little Lies. This will actually mark the second time that Nicole Kidman and Meryl Streep have worked together, after costarring in the 2002 multi-era drama The Hours, which won Kidman an Oscar. Apparently, it was thanks to Kidman that Streep signed on for the TV role. Liane Moriarty, author of the novel Big Little Lies that the series is based on, revealed that she wrote the part of Perry's mother with Meryl Streep in mind, but was not confident about actually getting the famous actress on board. Luckily, Kidman is friends with Streep and sent her an email convincing her to take the part.
Now, we just have to sit and wait for the new season of Big Little Lies to premiere. The second season has been filming for a little over a month now, and HBO just confirmed that Bonnie's parents have been cast: Crystal Fox as her mother and Martin Donovan as her dad. The new season will almost definitely focus on Bonnie's abusive upbringing — a major point in the novel that was ignored in the TV show — and build suspense around the coverup of Perry's murder.
Season 2 of Big Little Lies is set to premiere sometime in 2019.