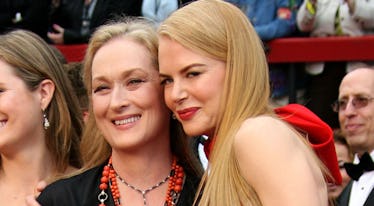 The Story Of How Meryl Streep Joined The 'Big Little Lies' Cast Is Everything & More
Frazer Harrison/Getty Images
We are not even a month into 2018, but we have already gotten what I'm sure will be the biggest, most exciting casting announcement of the year. Last week, HBO revealed that Meryl Steep is joining Big Little Lies for its upcoming second season. Yep — just when you thought BLL couldn't possibly get any better, enter Meryl Streep! But almost as exciting as the big casting news itself is the story behind how Meryl Streep got involved in Big Little Lies in the first place, which involves an author's dream and Nicole Kidman's enviable email contacts list.
Obviously, everyone in showbiz wants to get Meryl Streep to act in their projects — I mean, she's Meryl Streep! — but apparently, Big Little Lies author Liane Moriarty had the Oscar-winning actress in mind right when she set pen to paper on Season 2. One of the major new character Moriarty wanted to introduce in the new season is Perry's mother. Perry, fans of the show will recall, was Celeste's abusive husband played by Alexander Skarsgård, who was [SPOILER ALERT] pushed down a staircase and killed by Bonnie (Zoë Kravitz) in the finale. The new season will see Perry's mom showing up in Monterey to look into her son's death, and as Moriarty was writing the new character, all she could think of was Meryl Streep.
Liane Moriarty revealed in an interview with Australian newspaper The Daily Telegraph that she had Meryl Streep in mind to play Perry's mother all throughout the writing process for Big Little Lies Season 2 — she even named the character Mary Louise, Meryl's real name. Even though Moriarty knew the casting would be a stretch, she brought up with idea with the show's producers. Getting Streep may have been too much for the HBO producers, but not for Nicole Kidman. The BLL star and a longtime friend of Streep's sent Moriarty an email affirming that she would get in touch with Streep about the role, and clearly Kidman pulled it off. The moral of the story: never doubt Nicole Kidman's emailing skills.
Check out Liane Moriarty's full story about getting Meryl Streep on Big Little Lies below:
I was about half way through [writing Season 2] and I was talking to the producers and I said, 'I've got this role of Perry's mother and… not quite believing my own audacity, I'd like Meryl to play this character.' And the producers were laughing at me because they were saying, 'You've become so Hollywood,' as in, picking up the phone and saying, 'Get me Meryl.' They were teasing me… but then they were saying, it's not beyond the realm of possibilities because Nicole and Meryl are friends... Nicole sent me an email saying, 'Ask and you shall receive.'
So, we can all thank Nicole Kidman when we see Meryl Streep pop up on our TV screens on Big Little Lies Season 2. Kidman's friendship with Streep has been well-documented throughout the past 15 years — the two critical darling actresses first met when they costarred in the Virginia Wolff-inspired 2002 drama The Hours, which won Kidman her Oscar.
This casting news is so huge because Meryl Streep is best known for her work in film, and has only very rarely appeared on television projects. In fact, Big Little Lies will be Streep's first-ever regular role on a TV show. It is clear why Streep would make her big splash on television with Big Little Lies, though — the HBO juggernaut just swept the Emmys, Golden Globes, SAG Awards, and every other television awards show this season. It is also the show that brought other known film actresses to television, so she will be in great company alongside Reese Witherspoon, Laura Dern, and Nicole Kidman.
Now I am just waiting to see who Nicole Kidman is going to email to join Big Little Lies for Season 3!