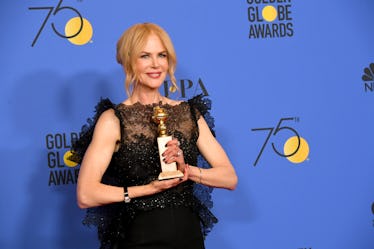 Nicole Kidman Just Joined Instagram & Her First Post About 'Big Little Lies' Is Epic
Kevin Winter/Getty Images Entertainment/Getty Images
Nicole Kidman, WELCOME TO INSTAGRAM. The Big Little Lies star has made her debut on the social media platform — verified check mark and all. Of course, since she's Nicole Kidman and everything, her first two posts were perfect. Besides dripping in sisterhood and female camaraderie, Kidman also used the opportunity to show off those sparkling Golden Globes she and the rest of her cast mates won on Jan. 7. Nicole Kidman's Instagram post about Big Little Lies will make you fall even more in love with the actress.
After having an Instagram for less than 24 hours, Kidman has already amassed over 350 thousand followers. She knows what the people want, obvi. I do not, also obvi.
Kidman's first ever post on Jan. 8 displayed her proudly holding up her Golden Globe for best actress in a miniseries. Of course, she's dressed in all black to support Time's Up, and the actress looks like she had an overall great night. The caption to the photo says that she shut the place down. Dang, Nicole, you go. The full caption to the photo reads,
About last night......shut the place down!!! I am so proud of my Big Little Lies family and to have stood with my sisters on such a special night. #TimesUp
You can actually see someone working to take down the set in the background.
Upon winning best actress in a miniseries, Kidman delivered the most gracious and empowering speech. Can we all just take a minute to appreciate the fact that Nicole Kidman gives some of the best speeches? Like, I feel stronger just thinking about it.
Kidman was sure to thank her fellow Big Little Lies co-stars by saying, "This is ours to share. Wow, the power of women."
She continued by shedding light on the big topic of the evening — Time's Up. Time's Up refers to itself as "a unified call for change from women in entertainment for women everywhere." Kidman tied the cause in perfectly when she said,
I do believe and I hope we can elicit change through the stories we tell and how we tell them. Let's keep the conversation going.
Keeping with the theme of female empowerment and building each other up, Kidman used her second ever Instagram post to show off her Big Little Lies co-stars, who she called her "sisters."
The photo shows Kidman, Laura Dern, Reese Witherspoon, Zoë Kravitz, and Shailene Woodley all laughing together and holding the show's three Golden Globe awards. All the ladies are laughing and it is seriously the most heartwarming thing on Instagram right now.
Fans love seeing the support. User @gabitakart commented on Kidman's post,
That's what its all about! Women empowering women! Lets support each other and become unstoppable !! There is no other way!
Another fan, @girliez, gushed over Big Little Lies and the talented cast. The comment said,
What a fantastic series. Great performances by such talented women. Thank you!
@plbthoughts commented a thoughtful response about Kidman and the rest of the cast being great role models,
what I love in this picture is its reality. THIS, is what little girls can aspire to, teens can listen to, young adults can hold a mirror to, and those of us older than you can finally nod our heads that the world can be a better place. Congratulations. Stay True. Always.
User, @gypsysoulqueen, said what we were all thinking when they commented,
I want to be in that girl gang!! You ladies rock!!! Can't wait for Big Little Lies season 2
I think we all want to be in the Big Little Lies "girl gang." Kidman and her co-stars have had a great run the past year, and it's just getting started. LOVE YOU ALL! CALL ME.
Check out the entire Gen Why series and other videos on Facebook and the Bustle app across Apple TV, Roku, and Amazon Fire TV.