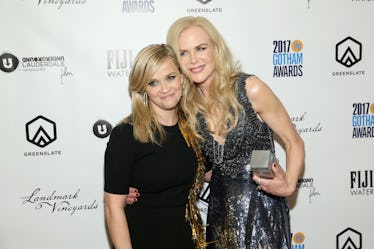 Reese Witherspoon Had The Cutest Reaction To Nicole Kidman Winning A Golden Globe
Bennett Raglin/Getty Images Entertainment/Getty Images
Following Nicole Kidman's (not so surprising) win at this year's 75th Annual Golden Globe Awards for her portrayal of Celeste Wright in HBO hit series Big Little Lies, the real winners were us, the viewers, who got to see Reese Witherspoon reaction to Nicole Kidman's win as she delivered her acceptance speech. Honestly, it was too cute.
Kidman accepted the award for "Best Actress in a Limited Series", where Big Little Lies co-star Witherspoon was also nominated. Even despite Witherspoon's loss, it wasn't enough to dampen her excitement for her bestie's big moment. Instead, Witherspoon couldn't wipe the huge smile off her face as Kidman delivered her empowering acceptance speech.
The too cute for words moment, which has been captured by a number of social media users, shows Jessica Chastain, Witherspoon, and husband Keith Urban all gazing at Kidman in adoration. In fact, Witherspoon's reaction to the Golden Globes is eerily reminiscent to her expression at the 2017 Gotham Independent Film Awards, where Kidman was honored with the Actress Tribute, to which Witherspoon presented Kidman with the award as well as delivered a heartwarming introduction of the actress:
To sit opposite my friend, who I know as a mother and a wife and an incredible fellow producer who sits through script meetings and adds notes and production meetings. I just watched Nicole melt away. It was extraordinary. She would come onto set in these incredible outfits and she was gone. Nicole was gone. And she disappeared into someone else. She became this other woman with another mind and another history and another voice, and she even had different eyes. And she became this woman, Celeste Wright, who was a mother of two, a wife of a wealthy man who seemingly has it all together but she holds a secret in her heart, a dark secret. And this powerful performance showed the intricacies of what so many women are going through in abusive relationships, and I truly believe this helped open up the conversation that so many people are having now about people who are facing this same struggle with abuse and harassment in their own lives. I truly believe that.
Read Witherspoon's full introduction of Kidman at the 2017 Gotham Independent Film Awards here.
And then just look at the love on that face. We can't.
Kidman herself holds 80 filmography credits on IMDB as well as six credits as producers. So it comes to no surprise that Witherspoon has openly discussed how much Kidman's career has impacted her as an actress, citing her as one of her biggest role models. Same Reece, same.
So as we eagerly wait for the second season of Big Little Lies, which has been confirmed to continue with an additional seven episodes, it's unclear as to what exactly the plot will entail following the abrupt death of Perry Wright. While the team has asked Liane Moriarty, author of Big Little Lies, to brainstorm ideas that would fit a second season for the show, Mortiary has revealed to Australia's Sydney Morning Herald that though she won't write another book, the wheels are turning in her head as to all the new story lines she could introduce:
I have started to think about ways this could continue. The producers have asked me to see if I can come up with some ideas. I wouldn't write a new book but perhaps a new story and then we'll see what happens. I'm absolutely open to it because, once I started thinking, it was too much fun to see what I could do and to see these characters again. And there's definitely places you can go.
And, with Kidman and Witherspoon on board as Executive Producers for a second round, it's sure to be as dramatical, suspenseful, and overall incredible as the first.
Plus, the chance to see this kind of precious reaction at the next awards show? Sign us up.