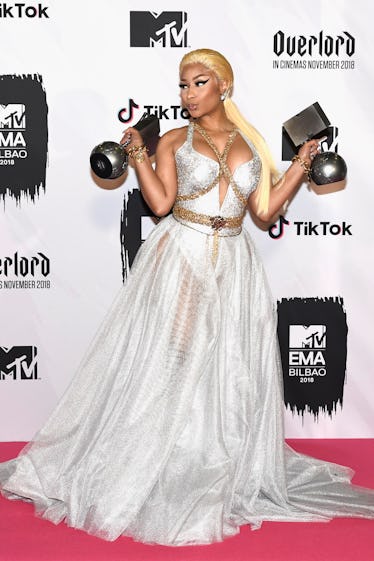 Nicki Minaj Got Jaw-Droppingly Flirty With Michael B. Jordan In Her PCAs Speech
Carlos Alvarez/Getty Images Entertainment/Getty Images
For regular non-famous people, flirting usually takes place IRL while face-to-face with the person you're flirting with or on the phone via text, dating app, or voice call/FaceTime with said person. Being an actual famous person opens up a few new doors when it comes to means of being flirtatious. For example, Nicki Minaj flirted with Michael B. Jordan in her PCAs speech.
So, yeah. While you were out making moves on your crush over $2 draft beers at the local dive bar last night, Minaj was making her move on her super hot A-list crush while accepting an award for Female Artist of 2018 on stage at E! People's Choice Awards 2018. Casual. Normal. It's fine.
After being presented her award by Jimmy Fallon (for which she beat out fellow nominees Taylor Swift, Camila Cabello, Cardi B, and Ariana Grande), Minaj took the stage for one hilariously thirsty acceptance speech. "Hey y'all, how are you tonight? I said, 'How are you tonight?!' " she started off.
Next, she moved on to the standard thank you list every celeb checks off while making a thank you speech (manager, fans, family etc.). And then, finally, she decided to make her feelings for Jordan loud and clear.
"Shout-out to Donatella Versace for custom-making this outfit for me and shout-out to Michael B. Jordan because he's going to be taking it off of me tonight," she announced to everyone in the crowd in what might possibly be the steamiest moment in television history. (OK, considering the fact that there have been actual sex scenes on television, I won't say it was the steamiest moment. But it's definitely up there.)
Oh, and the most hilarious part of it all? Jordan wasn't even present at the award show when Minaj made the flirty comment.
In fact, according to his Instagram story, Jordan wasn't even in Los Angeles where the awards were being filmed. No, instead, he was just landing in New York.
So, yeah, while you were at home making a move on your long distance crush by sending him a bold poke on Facebook, Minaj was literally communicating with her crush on television from across the country.
Her speech for Female Artist of 2018 wasn't the only one grabbing people's attention last night. No, Minaj also won the People's Choice Award for Album of 2018 for her album, Queen. Her album was up against Cardi B's Invasion of Privacy, Camila Cabello's Camila, Shawn Mendes' Shawn Mendes and Ariana Grande's Sweetener.
When accepting this award, Minaj shifted her attention away from Jordan and, instead, towards some ladies she admires.
For starters, she gave an inspiring shoutout to all of her fabulous female fans who are chasing their dreams:
Thank you to all of the queens around the world that are maybe not at the place they want to be in their lives, but the fact that you are pushing and you are not being lazy and not complaining but going for your dreams every day, shout out to you.
Next, she dedicated her award to a special someone who happened to be looking super hot that night. Who was that special someone, you ask? Obviously it was none other than Kim K. "I wanna dedicate this award to Kim Kardashian's a** in that dress," Minaj stated.
I couldn't find any pics of Kardashian's behind in her dress from last night, but she looked pretty dang fierce from the front.
Here's to hoping we all reach a level of success in our lives during which Nicki Minaj wants to give us a personal shoutout during one of her candid acceptance speeches.