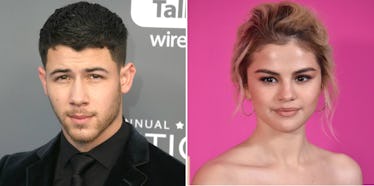 Nick Jonas Revealed The Most Awkward Story About A Date He Went On With Selena Gomez
Steve Granitz/Gregg DeGuire/Getty Images
Remember the time when all of the Disney Channel stars were dating each other? We had Miley Cyrus and Nick Jonas, we had Demi Lovato and Joe Jonas, we had Nick Jonas and Selena Gomez, and we had Kevin. The stars are all famous for other things now and rarely talk about their Disney darling days, let alone their relationships with fellow Disney darlings, but in a recent interview, Nick Jonas actually talked about his relationships with Miley Cyrus and Selena Gomez and it was everything. He talked about one date with Gomez in particular, and Nick Jonas and Selena Gomez's Central Park date story sounds like a truly awkward experience for everyone involved.
That date was one of the main topics discussed in Jonas' interview with BBC Radio 1, as well as the rumors that claim Miley Cyrus' iconic bop "7 Things" is about him (it is, and he confirms it in the video). Jonas visited BBC Radio 1 to do an interview where he sat in a fake hospital bed while hooked up to a heart monitor. The whole point of the bit with Nick Grimshaw was to ask Jonas things that would hopefully make his heart rate go up. The perfect way to do that is by talking about exes, obviously.
The whole video is hilarious, but the Selena Gomez part comes in at about the 4:21 mark.
In the video, Grimshaw informs Jonas that he had Gomez film a little clip specifically for this segment. That's when the clip pops up and Gomez chimes in with a, "Hello, Nicholas." ~Steamy~. She continues, "It is Selena Gomez. Don't need to say my full name with you, but it is. So I know what you're doing, and I would like to remind you of a time where we all went to Central Park together. It was definitely over 10 years ago. I was wondering if that brought up anything for you? Central Park was really beautiful. It was actually my first time. Maybe that says something? If not, I failed."
What could this be about?! I don't know about you guys, but I've never heard of this apparently infamous Central Park date. Thankfully, Jonas explained in full. He told Grimshaw (after his heart rate definitely spiked a bit), "OK, so this was at a time when my brothers and I were a boy band." A boy band?! JUST a boy band?! You know it was so much more than that, Nicholas. (Also, that boy band might be getting back together. Gird your loins.) He continued,
We were in Central Park. [Selena and I] were very private about our relationship, and she was very unhappy that her Central Park experience was ruined by the fact that I walked about 20 feet away from her. Even though they were taking pictures of us and obviously we were together, I was like, 'It would be better if we stood about 25 feet apart.' So it ruined her Central Park experience.
Damn, Nick! Ruin the date, why don't ya?! But wait... that's not all he revealed, guys.
Taylor Swift was literally there with them, as was Joe Jonas. Talk about burying the lede!
Jonas so casually added, "So her and Taylor Swift — who was dating my brother Joe, but we never confirmed it — walked 25 feet behind us as we walked through the park by ourselves." Wow. I don't blame young Gomez for being pissed, that was a bogus move on the Joe Bro's part. But what I really want to know is where Kevin was. Was he left to wander Central Park by himself?! Was he just rowing a boat all on his lonesome while they traipsed around the park?! Was he left at home?! Where was Kevin?!
Earlier in the video, Grimshaw brought up Jonas' first (and most iconic) celebrity relationship: Miley Cyrus.
Hoping it would spike his heart rate, Grimshaw asked Jonas about her (greatest) song "7 Things" off the Breakout album. We all know the lyrics (shah). We all know the seven things she hates about this guy in the song. We know the seven things she loves. (His hair! His eyes! His old Levis!) We know he makes her love him. But who is the guy?! The rumor has always been that the guy she's singing about is Nick Jonas. While it's always been obvious that it is about him, the two stars never confirmed it.
So Grimshaw plays part of the video and asks if Cyrus ever flat-out told Jonas it was about him.
Jonas responded, "Never directly, but she's wearing the dog tag in this thing that I gave her when I was 14, so..." Alert the presses!! We finally have confirmation the "7 Things" is about Nick Jonas!! Sweet, sweet victory!! Jonas then adds that he was "kind of flattered" by the video, saying "it's there forever and I know it's about me." Damn. You right, Nick. You right.
Let us never forget this day. Let us always remember it as the day we learned about the early days of Selena Gomez and Taylor Swift's friendship and got confirmation on one of the biggest rumors of our middle school years. We are truly blessed.
Let's also not forget about the other Disney Darling who also dated a Jonas brother (not Kevin) and is also friends with Selena Gomez: Demi Lovato.
This is such a tangled web, you guys. But shout out to Nick Jonas for clearing some of it up! It's definitely one of the seven things I like about him. GET IT?! OK, bye.