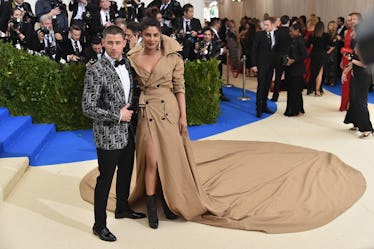 Nick Jonas' Flirty Comment On Priyanka Chopra's Instagram Has Fans Freaking Out
Mike Coppola/Getty Images Entertainment/Getty Images
When it comes to Hollywood, unlikely celebrity couples garner a lot of attention. Something about an seemingly out-of-nowhere pairing is so intriguing that people can't get enough of it. Well, two stars you probably never thought of together have apparently getting cozy with each other. If you need even more proof beyond the rumors, then Nick Jonas' comment on Priyanka Chopra's Instagram should help convince you that these two are totally a couple.
If you're not yet caught up on the rumored romance between Jonas and Chopra, then let me fill you in a little bit (so you know just how telling his comment is). It was reported on May 29 that a source confirmed their new relationship to Us Weekly. The confirmation came after the two reportedly spent Memorial Day weekend together in Los Angeles. Elite Daily reached out to teams for both Chopra and Jonas for comment on the rumors at the time, and Chopra's reps declined to comment while Jonas' reps did not respond.
OK, a source reportedly confirmed the news, but how can you really know these two are coupled up? Look no further than Chopra's Instagram account. Per Glamour, she posted a photo on Sunday, June 3, of her and some pals grabbing burgers with the caption, "Burgers and Chanel...my favourite combo with my fav girls," but it wasn't the caption that caught fans' eyes.
It was a sweet comment with the ever-so-telling heart emoji from Jonas that simply said, "That smile."
Are you freaking out yet? Does this count as making it Instagram official? What does it all mean?!?!
Well, plenty of fans took Jonas' flirty comment as exactly the confirmation of the relationship they were waiting for. Jonas made sure to like the photo too, because that's what good (boy)friends do, right? Even though neither Jonas nor Chopra have outright confirmed the relationship, the Sunday morning double-tap and Instagram comment from Jonas seem to be just what the fans of this couple needed.
As soon as Jonas showed the Instagram love on Chopra's In-N-Out Burger post, fans began filling the comments section with plenty of heart emojis of their own. People are seriously here for this unlikely coupling.
This reported new duo might not be as odd as you think it is. The two were seen together as far back as the 2017 Met Gala. Chopra explained to the Jimmy Kimmel at the time how the two wound up on the red carpet together in May 2017. Chopra said on Jimmy Kimmel Live at the time,
Yeah, we were at the same table. I mean, we know each other. So, he was like 'Hey, you wanna go together?' And I was like, 'Yeah, OK, let's go together.' So, it just ended up working out.
Whether or not something was sparked between the two that night in May 2017, it definitely seems like the sparks are flying a year later. It sure sounds like Memorial Day weekend 2018 was more like Memorial "date" weekend for these two. On Friday, May 25, the new couple took in the Beauty and the Beast Live concert at the Hollywood Bowl, then spent the day at the Los Angeles Dodgers baseball game on Saturday, May 26.
While the source didn't detail to Us Weekly any overt PDA between Jonas and Chopra, they did say that the pair seemed very comfortable with one another. The eyewitness shared,
Priyanka and Nick were talking really closely and were very smiley and very happy. They weren't trying to be private as they were in a pretty public place, but they were talking to people around them, sitting closely and they both just seemed super happy.
Between seeming "super happy" and the latest Instagram flirtation from Jonas, it appears that this new couple might be the real deal after all.