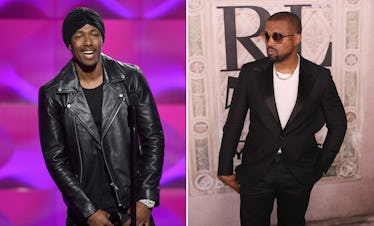 Nick Cannon Just Responded To Kanye West's Rant About Him In A Surprisingly Mature Way
Michael Kovac/Rob Kim/Getty Images Entertainment/Getty Images
Kanye West is here to tell us about his feelings, y'all. And he's doing so on my preferred method of social media, Instagram. If you're wondering why Kanye is taking to social media to air out his grievances, a lot of it has to do with Nick Cannon's recent interview where he didn't shut down the suggestion that Drake and Yeezy's wife, Kim Kardashian, may have had ~a thing~ together, and also spoke at length about his brief stint dating the Keeping Up With The Kardashians star nearly a decade ago. And now, we finally have Nick Cannon's response to Kanye West and his comments regarding Kim Kardashian, and honestly, it's mature AF.
There's a lot of drama floating around in this situation, but I'll try to make things as succinct as possible for you, OK? OK.
In an interview with VLAD TV on Wednesday, Sept. 19, Cannon revealed that when he dated Kardashian, she reportedly wanted to make changes to her body. "That's all insecurity and not really loving yourself for who you are," Cannon said.
This interview came just weeks after Cannon spoke with DJ Akademiks on an episode of Everyday Struggle, where he agreed with one of the hosts when he speculated that Kardashian and Drake hooked up, saying, "That ain't that far off of a concept." Elite Daily reached out to Kardashian's teams for comment on Cannon's claims, but did not hear back by the time of publication.
So then, on Thursday, Sept. 20, West took to Instagram and uploaded a four-part video, calling out Nick Cannon and Drake (and Tyson Beckford, but that's another story) for talking about Kim Kardashian in a way that Yeezy didn't approve of. "I just want to address some things that are not sitting right with my spirit," West says, and starts by bringing up Nick Cannon right off the bat. He said:
First of all I want to address Nick Cannon, like, I understand that you used to date my wife, but you know, you get in an interview, don't mention my wife. If someone brings my wife up, you say 'Hey, I respect that man, I ain't speaking on that.' Don't be making no suggestions, like nobody f*cked my wife.
Elite Daily reached out to West, Cannon, and Drake's teams for comment on the videos but did not hear back by the time of publication.
Look, Instagram is *probably* not the forum to publicly address something like this, but Kanye West doesn't play by the rules, so here we are. And Nick Cannon is now doing his very best to match Kanye's "spirit," and I'm pretty on board with how he handled responding to the rapper.
On Thursday, Sept. 20, Cannon, took to Instagram and shared a video directed towards West. "I honestly got to say this, my dude," he said. "I've never said anything disrespectful or harmful to ya, in my opinion, to your marriage, or your union. I salute it, keep it going. But you are not gonna tell me what I can and what I can't say," he added. "I'm a solid individual... somebody asks me a question, I'm gonna answer it to the best of my ability. I'm gonna give my opinion. And there ain't no harm, no foul. But I know it got your spirit feeling weird. Holla at me. You know where I'm at, you know what I'm saying. 'Cause a man's spirit is free but pride binds it at times, so if you gotta let that loose, let it loose."
So that's where we're currently at with this whole story. While Cannon didn't exactly apologize for his comments, he does seem open to at least discussing the situation with Kanye, which is something.
Guess we'll just have to wait and see if Kanye decides to respond to Nick's response to Kanye. And then if Nick responds to that response. You get the idea.