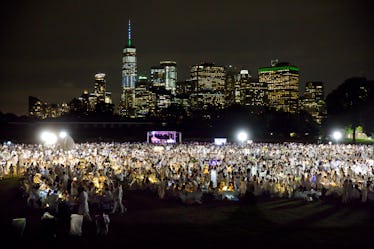 I Went To A Secret Dinner Party On An Island Off NYC With Thousands Of Strangers
Eric Vitale Photography
When I woke up on Monday, Sept. 17, I couldn't help but wonder where I was going to end up that night. It was the morning of Dîner en Blanc, a secret picnic dinner party scheduled to take place *somewhere* in New York City. As always, the location wasn't revealed yet — and it probably wouldn't be until an hour or so before the event. So, I spent the day preparing for the most outrageous picnic of the year. I hung my white-laced dress, painted my nails a creamy color, and broke out my pearls. Not before long, I was notified about New York City's Dîner en Blanc 2018 location — and let's just say I couldn't get there via taxi.
In fact, I couldn't get there by subway, either. Or Uber. Or Lyft. Why? Because Dîner en Blanc 2018 was set to be held on Governors Island. If you're not familiar with geography in and around The Big Apple, just know that Governors Island is located in the New York Harbor nestled between Manhattan and Brooklyn. You can only get there by ferry, which meant I had to totally rethink my travel plans for the night. Still, I was up for the adventure.
Fast-forward to 6 p.m. at Battery Park, a ferry hub at the southern tip of Manhattan. My guest and I arrived to a sea of picnic-goers waiting for their boats to dock, and everyone was dressed in white. Side note: All Dîner en Blanc attendees must wear white everything in order to partake in the annual event. It's been that way since the first gathering was held in Paris, France, nearly 30 years ago. François Pasquier and his friends started the tradition when they got together in an outdoor space and wore white so they could find each other. Of course, the tradition continued.
While I was sitting on the pier waiting for our ferry to arrive, I couldn't help but feel grateful to be a part of New York City's Dîner en Blanc. Everyone around me was carrying carts full of prepared dinners that they packed for the evening, along with foldable tables, chairs, and white decorations. Like always, all attendees were advised to set up their own stations (like a true picnic), and I was super excited to see what Governors Island was going to look like draped in Dîner en Blanc decor.
After admiring everyone's outfits and fully stocked picnic carts, my guest and I boarded a ferry that was set to depart Manhattan full of Dîner en Blanc attendees. The journey to Governors Island took about 10 minutes, and when we arrived, the landscape was breathtaking. We walked through a winding road that led to the glamorous event site and were immediately overwhelmed by an ocean of tables draped in white cloth and glistening decorations. There were people laughing, dancing, eating, and drinking — and you could see the bright lights of Manhattan sparkling in the background.
Needless to say, it was a sight unlike any other.
To be completely honest, it felt like a dream. Governors Island had totally transformed from a New York City tourist destination to a mystical party site for nearly 6,500 Dîner en Blanc attendees. After checking in at the event's press tent, my friend and I ordered a glass of wine and walked around the seating area to admire everyone's tabletops and ensembles.
While walking around, I couldn't help but notice how delicious everyone's dinner looked. Some people made their own entrees, while others ordered meals through Le Dîner en Blanc. Those meals were prepared by renowned chef and Michelin Star recipient, Marc Forgione. Luckily, I got to speak with Forgione before the event, and I asked him about providing dinner for tons of Dîner en Blanc attendees. It seemed like he was totally up for the challenge.
Forgione tells me, "You have to keep in mind, this is for thousands of people — and also, there's no kitchen. Basically, we have to figure out how to feed thousands of people... so that was a challenge in itself. But it was fun. I like stuff like that."
Forgione did not disappoint. He curated dinner options fit for all dietary needs, including one with meat, one with seafood, one for vegetarians, and one "for fun." He says, "I wanted to make sure that we had a little something for everybody."
Regardless of whether diners chose Forgione's meals or prepped their own, the tabletops looked spectacular.
After everyone was done with dinner, they migrated over to the main stage. There, a DJ played music in front of the Manhattan skyline, and Dîner en Blanc guests danced in the grass of Governors Island until it was time to call it a night.
Around 9:30 p.m., my friend and I boarded a ferry and made the trek back to Manhattan. During the trip back, I couldn't help but feel proud of those who made Dîner en Blanc a reality. If you attended this year's event and feel the same way, you can thank Sandy Safi, the Director of Development and co-founder of Dîner en Blanc International. I talked to Safi about the history of Dîner en Blanc, and she told me how she helped expand the dinner around the globe.
Safi says, "Seven years ago, my partner and I decided to launch the event in New York. And for New York, the press started writing about this event in the four corners of the world. And people started writing us emails."
Basically, people all over the globe started asking Safi how they could bring Dîner en Blanc to their cities — so she worked with her partner to create a template that folks could follow in order to bring the celebration to their town. She continues, "We decided to create a model where we allowed people in their own city — that knew the city, that had a network, that had a passion for the event, a passion for their city spaces to take the event — to replicate it in their own city. So we created a licensing model that allowed people to create the event."
The rest, as they say, is history. Safi and her partner worked together and eventually hired a team that helped Dîner en Blanc expand internationally. Now, the dinner takes place in over 80 cities around the world.
If you end up getting invited to a Dîner en Blanc in your favorite city, stay patient while you wait for the secret location to be revealed. Whether the dinner is taking place in a local park or on an isolated island, you're bound to have a blast.