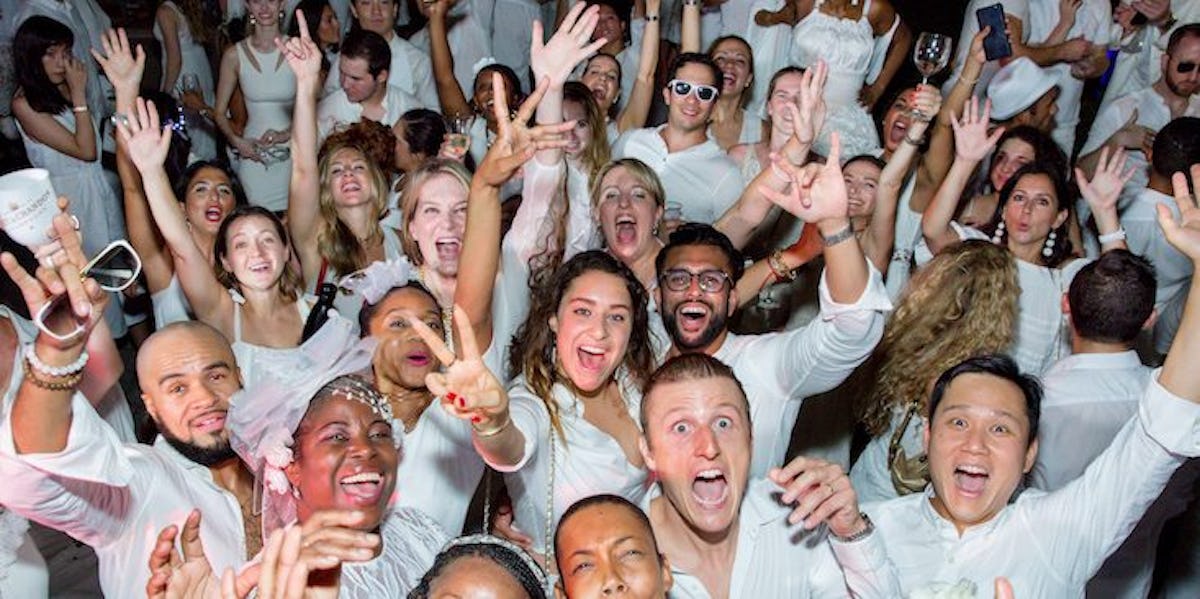 I Drank Rosé With Thousands Of Strangers And It Honestly Restored My Faith In Humanity
Eric Vitale Photography
There's no denying the fact everyone in the world should probably drop what they're doing and partake in a gigantic group hug right now. I won't get political, but boy do we need some global camaraderie. Luckily, I was able to attend an epic event that let me interact with thousands of kind strangers -- but we didn't exactly form a group hug. Instead, we drank ton of rosé together, laughed, danced, and ate really delicious food. The gathering was called Dîner En Blanc, and it honestly restored my faith in humanity. I was lucky enough to attend this year's dinner at Lincoln Center on Tuesday, Aug. 22.
So, you're probably wondering, "What is Dîner En Blanc?" Don't worry, I didn't know what it was before I went either -- and there's a reason for that. Dîner En Blanc is a gigantic "private" party that's been taking place in New York City for seven years and counting. However, the celebration started in France about 30 years ago, and currently takes place in over 70 cities around the world.
To summarize the elusive event -- which was described as a "posh picnic" in a press release sent to Elite Daily -- I'll tell you this: Guests sign up for the dinner prior to the big night, and they aren't told where the gathering is being held until 30 to 45 minutes before the party. Once they're told, they travel to the "secret location" with their own tables, chairs, and food (yes, guests are required to bring all of this), and then they enjoy their evenings with thousands of total strangers.
Oh, did I mention you need to wear white?
Yep. Guests are told to show up wearing white and only white, and there's an interesting reason behind the color choice. When the first "dinner" took place nearly 30 years ago in Paris, François Pasquier and a handful of friends wore only white in an outdoor location so they could find each other. Since then, the tradition continued, and people of all ages, races, and genders have gotten really into it.
Once everyone arrives in their classy (and creative) white getups and sits at their own unique tables, the crowd waves their napkins in the air to begin the dinner. Of course, I whipped out my phone at the sight of it and was lucky to get a boomerang of the epic moment.
Then, it's time to eat. While guests are permitted to bring their own food, dinner-goers this year were wooed by guest chef and four-time James Beard Winner Todd English. English has curated the Dîner En Blanc menu for four years and counting, and I had the opportunity to talk to him at the event.
Of course, I asked him what his favorite food on the menu was, to which he responded the "fried chicken or the BBQ." He said the theme for this year's menu was "elegant picnic," and I was totally down with that.
Surprisingly enough, I got the chance to talk with another Dîner En Blanc hot-shot, Gilles Amsallem. Gilles' company, Selavi Global, partnered with Dîner En Blanc to produce the event, and the outcome was truly astonishing.
I asked him what his favorite moment of the event usually is, and he said it's the very moment everyone is seated and ready for dinner. He told me, "It's a magical moment. It's very unique, it's mind-blowing."
TBH, I couldn't agree more.
As my enchanting night at Dîner En Blanc continued, I walked around, rosé in hand, and met tons of fun, loving people. I danced with strangers decked out in string lights when the sun went down and ate delicious food with new friends.
Even though the thousands of people who attended Dîner En Blanc didn't partake in a huge group hug, it's safe to say that my faith in humanity was definitely restored -- if only for a little while. I mean, let's face it: Nothing brings people together more than rosé, food, and music.