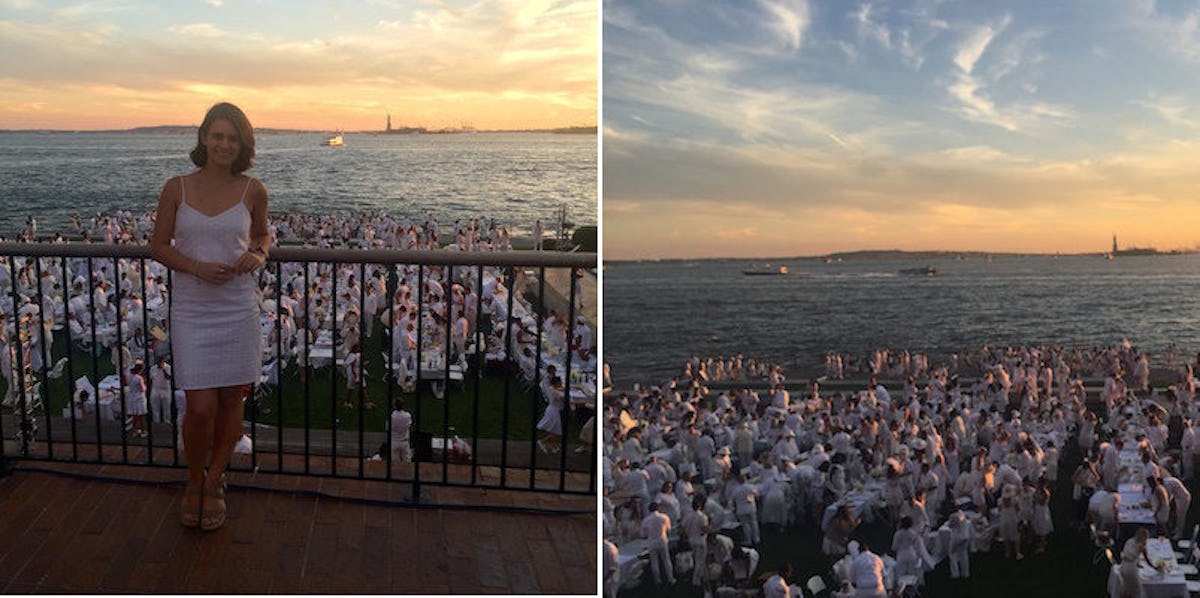 I Went To A Dinner Party With 5,000 Strangers And Never Felt More Accepted
More than 5,000 people put on fancy, white clothes and let fate take the lead to participate in the annual Dîner en Blanc in New York City on Thursday night.
Dîner en Blanc has been an annual event in New York for six years but started in France about 30 years ago.
People join a waiting list to buy tickets for the event. On the day of the event, they put on fancy, white outfits -- the more decorative, the better.
Guests have no idea where the dinner is going to be held. Instead, groups meet at assigned locations around the city. Group leaders then take them to the actual location.
The organizers of the New York event spend eight months planning the evening. This includes finding and securing the secret location, as well as setting up music, lighting, security, guest placement and performances.
Their hard work paid off when, this year, the guests arrived at Robert Wagner Jr Park in Battery Park, right on the Hudson River overlooking the Statue of Liberty. It was an absolutely stunning sight.
I've wanted to go to the Dîner en Blanc for years and finally got to experience it this year.
It's a bit of an odd concept, really. Guests buy tickets and then have to pack their own food and tables -- like a super fancy picnic.
They carry their materials to the secret location and spend time assembling the table settings. Linda Davis, one of the co-hosts, told Elite Daily,
What they are willing to do to attend is quite extraordinary.
As someone not particularly visually creative or useful, I imagine my table set-up would be very simple and thrown together last minute.
Luckily, I didn't have to set up my own table and instead hung out at a lovely table set by Apothic, the official wine sponsor of Dîner en Blanc:
But I was insanely impressed by what the guests put together. They had elaborate set-ups with Christmas lights, statues, candles and flowers.
Not to mention, the outfits were out of this world. When New York brings it, New York brings it.
The evening was full of diverse looks and experiences. While some people came in 18th-century style corsets and top hats, others came in oversized button-downs and t-shirts. (Davis, the co-host, recommended bringing champagne rather than red wine to avoid any spilling issues.)
There were people of all ages and races enjoying the evening together, dancing and indulging. People were eating everything from takeout Chinese food to catered, multi-course meals.
You created the experience for yourself, but then you enjoyed it all together.
By the end of the night, the sun had set, and everyone was up out of his or her seat, dancing.
Davis said,
I hope that everyone comes and enjoys this beautiful setting in the heart of the city and walks away having met someone new and embraced the concept of enjoying an evening with strangers.
It's really inspiring to see people using their creativity for nothing more than a super fun night out. It's a good time to get dressed up and get really into something in the way these guests did.
It's easy to just spend a night in ordering delivery, but every so often, you have to switch it up and do something crazy. The Dîner en Blanc is a perfect time to do so.
The Dîner en Blanc happens in over 70 cities around the world.