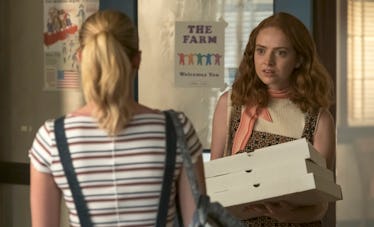 New Photos From This Week's 'Riverdale' Episode Introduce A Shady New Cult Member
CW
After the inexplicable ending of the Season 3 premiere, Riverdale fans are all trying to make some sense out of the strange new cult taking over town. We still have yet to meet The Farm's suspicious leader Edgar Evernever, but a bunch of newly released stills from next week's new episode give fans a first look at Edgar's daughter, Evelyn Evernever. Oh, and there are also plenty of shots of Veronica's swanky new speakeasy. Check out these new photos from Riverdale Season 3 Episode 3 to get your first glimpse of all the drama to come.
The Farm is one of the most mind-boggling new mysteries that Riverdale's Season 3 premiere introduced to fans. In the season's first episode, Alice Cooper has followed her daughter Polly's advice and joined The Farm to help cope with the revelation that her husband had secretly been a serial killer. Betty Cooper is not so easily fooled, and she sees The Farm as a dangerous cult... but she does not realize just how dangerous until she finds her mom and sister levitating Polly's infant twins over a fire in her back yard.
So what is the deal with this cult — is it really magical or was Betty hallucinating? That's the big question right now, and luckily, we are going to start getting some answers pretty soon. Next week's third episode, entitled "As Above, So Below," will focus largely on Betty finding out details about The Farm by befriending Evelyn Evernever, the daughter of The Farm's leader Edgar Evernever. A ton of new photos released by the CW show Evelyn for the first time. It looks like Evelyn will be putting together an informational session about The Farm at Riverdale High, and then we will see her again during a The Farm meeting at Betty's house hosted by Alice Cooper:
But The Farm is not the only exciting new club about to hit Riverdale. Another major part of the upcoming third episode will be the grand opening of Veronica's Old Hollywood-inspired speakeasy, which she alluded to opening underneath Pop's during the Season 2 finale.
New photos show Veronica working to open her speakeasy, with Reggie Mantle working behind the bar. The photos also tease some upcoming songs from Josie and Veronica, performed at the grand opening. But since this is Riverdale, obviously this can't go off without a hitch. The photos also show Penny Peabody and Hiram Lodge making a certainly unwelcome appearance at the new club.
Yikes... that is definitely going to cause some tension. The official synopsis for the new episode gives even more details about what to expect in Episode 3:
OPENING NIGHT -- When a series of suspicious roadblocks threaten to delay the opening of the speakeasy, Veronica (Camila Mendes) enlists the help of Cheryl (Madelaine Petsch), Toni (Vanessa Morgan), Reggie (Charles Melton), Kevin (Casey Cott) and Josie (Ashleigh Murray) to ensure opening night goes off without a hitch. Elsewhere, Betty (Lili Reinhart) and Jughead (Cole Sprouse) follow different leads to learn more about the strange incidents going on in the town. Finally, some unwanted attention forces Archie (KJ Apa) to make a difficult decision about his future.
Riverdale Season 3 Episode 3 "As Above, So Below" will air on the CW on Wednesday, Oct. 24.