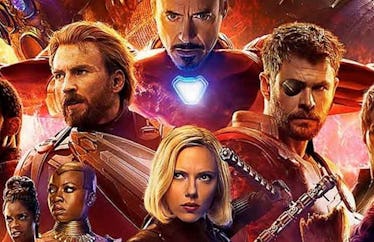 New 'Avengers 4' Details Will Give Fans Hope For The Survival Of Earth's Mightiest Heroes
Marvel
Disney's Marvel Cinematic Universe is skipping the annual presentation at San Diego Comic Con's Hall H this summer. But that doesn't mean they're lying low everywhere. This past week, CEO Kevin Feige did a presentation at the annunal European film exhibitors' conference, known as CineEurope. Though there were conflicting reports of footage shown as part of the presentation roll, no details of what might have been shown have emerged. And no, there's still no title. But Feige did reveal some new Avengers 4 details during the panel.
One of the major questions fans were left with at the end of Avengers: Infinity War was: "What Now?" Many had walked in with assumptions characters would die before the credits rolled, it was just a matter of who and when. Most of the deaths made sense. Loki and Heimdall died early, Tom Hiddleston and Idris Elba are out of contract and are done with the series. Gamora is killed, there's your shock death, Zoe Saldana can move to the next phase of her career.
But the characters that viewers steeled themselves to see go — Iron Man, Captain America, Hulk, maybe even Thor — all stayed alive. All the newbie characters who were assumed safe were taken away. Spider-Man, Dr. Strange, Black Panther — poof, there they went.
So, what now? As the panel, Feige gave a good indication of where the story goes from here, and it's one of the more heartening things fans have heard from Marvel since Infinity War arrived.
According to reports like the tweet above, Feige said the following:
We are going to see our characters make an effort to become a true team with one another.
It's been a long time since the Avengers were a team. They came together in the original film partly out of necessity, partly out of pressure, and partly out of guilt after Agent Coulson died. But though they talked a big game about being a family, these were never people with great communication skills or a lot of experience with long-term relationships.
Relationships like the ones Nick Fury put together in 2012's The Avengers take work to maintain. They take open and honest communication. Our heroes didn't do that. They hid things from one another, tried to fix things alone. This is how Avengers: Age of Ultron happened. Then, they didn't trust each other, refusing to see things from anyone's point of view but their own. This is how Captain America: Civil War happened.
There's been a lot of speculation why filming for Avengers 4 contained scenes where the cast returned to their original looks from the 2012 film. Speculation suggested our characters would time travel. But perhaps instead of time travel, what Marvel was really filming was the six of them all re-living the moment when they first became a team, remembering the friendships they made along the way.
Sometimes to move forward, you have to go back. It sounds like the way the MCU plans to bring Phase III and the first set of Marvel interconnected universe characters to their natural end point is to take them back to the start.
How exactly going back to the past and turning themselves into a true team will help defeat Thanos is unclear right now. To find out, viewers will have to wait until 2019, when Avengers 4 arrives in theaters.
Meanwhile, Ant-Man & The Wasp will premiere this summer on July 6, 2018, Captain Marvel will get her own standalone film on March 3, 2019, and Avengers 4: I Promise I'll Post As Soon As There Is A Title, So Please Quit Asking arrives in theaters on May 3, 2019.