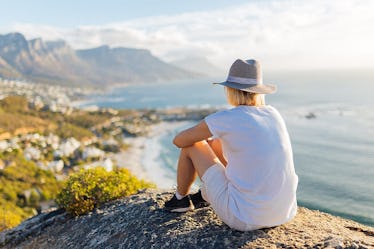 If You've Never Been In A Relationship, Keep In Mind These 4 Things
It could be because you simply haven't found someone worth pursuing. It could be because nerves or insecurities have gotten in the way of putting yourself on the line and asking someone out. It could be because you've merely prioritized your education, career, or other aspects of life over romance. Whatever your reason, you've never been in a relationship — and you should know this: it's totally OK. There is nothing wrong with you. And despite what you may have been led to believe, there is no "normal" age to have your first relationship, just as there is no normal time to discover your true calling, or get your passport, or start a family.
That said, it's also natural to feel a tad frustrated or insecure. You've watched friends pair off, you've listened to them gush about their SOs, and you've probably played the role of third wheel more times than you can count. Meanwhile, a slew of questions keep popping up in your head. Why is it taking so long? Will you ever find someone that's right for you? How will your lack of experience be perceived while dating? If you find yourself feeling uneasy about the fact that you've never had a relationship, here are some things to keep in mind.