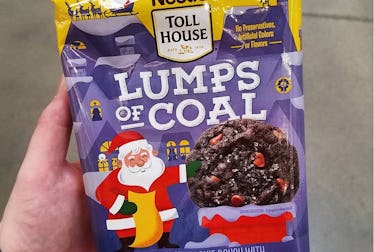 These Holiday Cookies Are The Perfect Gift For Your Friends On The Naughty List
Instagram/Candy Hunting
While the scariest night of the year might be fast approaching, 'tis the season to start making moves on all the Christmas goodies that will be coming to town for the holidays. Normally, I'm all for being on the nice list come Christmas morning, but a new offering from Nestlé Toll House (aka the purveyors of all things chocolate) is making me seriously consider switching over to the dark side. Nestlé Toll House's Lumps of Coal Cookies are here, and they're the perfect, chocolate-filled bites for your friends on the naughty list. TBH, getting coal in my stocking has never seemed so appealing, and my taste buds are so ready.
Whispers that Nestlé would be amping up your cookie dough cravings this winter first started circulating on Instagram, as bloggers took to the social media platform to report that the festive treats have already been spotted on the shelves of Hy-Vees, Walmart, and Albertson's. According to the Walmart website listing, the cookie dough comes in a 16-ounce package, meaning you have one whole pound of raw cookie dough to consume while decorating your tree and listening to Christmas carols. Maybe with a glass of boozy eggnog, if you're really trying to land on the naughty list.
While Instagram blogger Candy Hunting points out that chocolate cookie dough has definitely been tried and done by Nestlé before (the blogger commented, "New Lumps of Coal Nestlé Toll House cookies are out now for the winter! Well, the name is new. I'm sure they've made a chocolate cookie with chocolate chips before... Found them at Hy-Vee,") there's one major detail that will put you in the merriest of spirits.
Perusing the product description, it originally looks like you're getting your classic yet totally addictive, chocolate cookie dough, but instead of regular ol' chocolate chips, you're getting morsels of red chocolate. Once baked, the scientists behind this totally genius creation promise that your chocolate cookies will "look like little lumps of coal" with the red chips standing in for glowing embers. TBH, my mouth is already watering, and I've never been more excited to get a lump of coal (or five).
In case you needed ideas for when would be a good time to bring out your big package of cookie dough in public, the website advises, "This 1 lb. pack includes enough mix to prepare two dozen cookies, so you can easily cater dessert at your next holiday dinner party or Christmas day festivities or stock your cookie jar to facilitate after school snacks."
In other words, these mouthwatering lumps of coal are the perfect festive bites for each and every occasion, so I'd start stocking up now so you can live your best, cookie dough-munching bite once the holidays really kick in. Elite Daily reached out to Nestlé for more information about how long these bad boys will be available, but didn't hear back by the time of publication.
Again, it's completely up to you whether you decide to satisfy your cookie dough cravings without having to lick the bowl or if you want to double-fist these cookies all day long, and one thing's for certain: Whether you're team cookie or team cookie dough, you're about to have the most delicious winter.