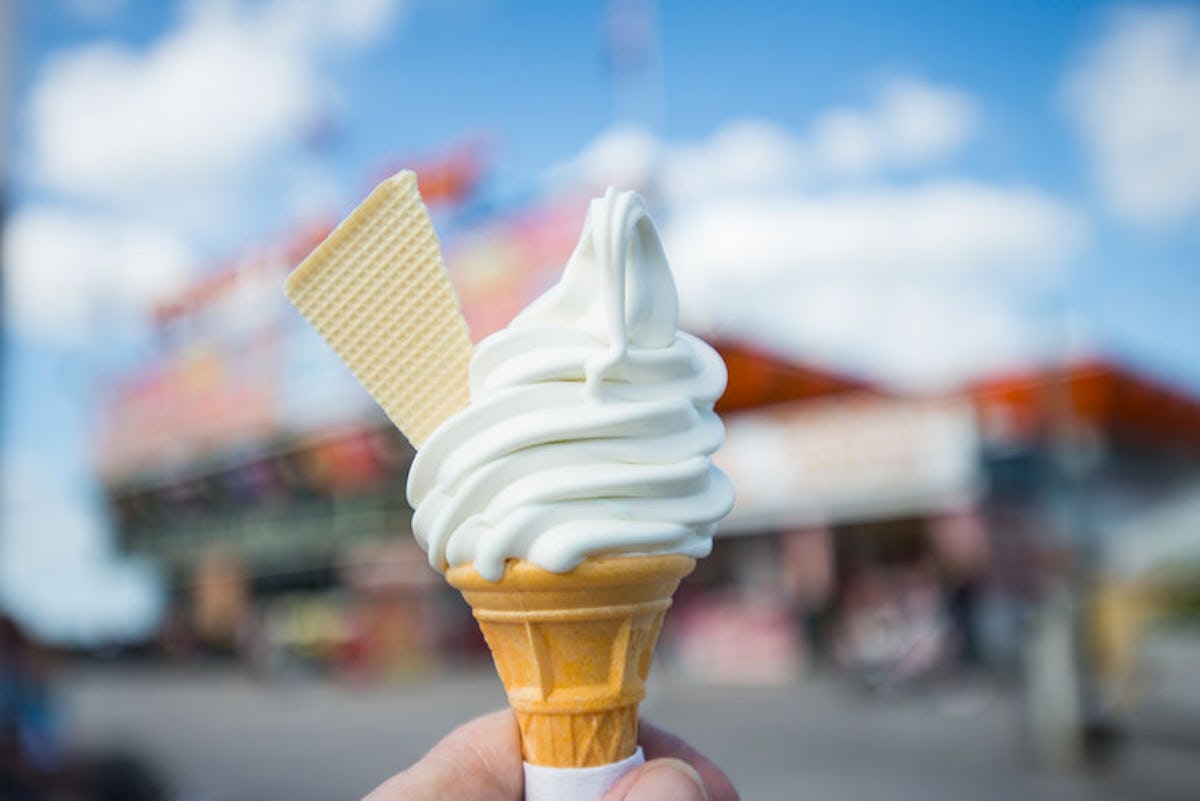 Celebrate National Frozen Custard Day 2018 With These Seriously Sweet Deals
Stocksy/Mike Marlowe
You're in luck if you enjoy finding each and any excuse to cool down with icy sips or a frozen treat during the summertime, because National Frozen Custard Day 2018 is almost here. If you've never tried frozen custard, it's basically ice cream's creamier, richer cousin, and I've been a huge fan ever since I tried the swirled treat in college. Considering that it's just like ice cream, but even better, you're definitely going to want to score a cone (or five) on the cheap this week.
On Wednesday, August 8, dessert devotees can head to a handful of select locations and score either free or discounted cones, courtesy of National Frozen Custard Day. August is peak season for enjoying the warm weather deliciousness, and the deals on offer will make satisfying your sweet tooth completely guilt-free.
I tried my very first frozen custard cone at Andy's Frozen Custard, which is offering customers a small cone on the house in exchange for every $10 gift card that's purchased on Aug. 6 through 10. Meanwhile, if you spend $20 on a gift card, you can score a free small-one topping concrete blend with mouthwatering options like marshmallow creme, hot fudge, fresh strawberries, or even espresso. Trust me, you're definitely going to want to make a return trip, so that gift card will come in handy. Plus, the deal is valid through the end of the week, so you can choose to go there as many times as you want until then.
A handful of other retailers are also offering scoops for $1 or less, and I'm here for it. Per press releases, Rita's Italian Ice will be selling a promotional cup or cone for just 99 cents, while Freddy's Frozen Custard & Steakburgers will donate 50 cents of their $1 single cone, dish or custard cookie to a nonprofit benefitting young students and their teachers.
Meanwhile, if you're looking to get discounts on regular or large sizes, Whit's Frozen Custard will offer select customers in Florida 10 percent off the cost of their normal menu items while Ritter's Frozen Custard will let you get the next size up for free with the purchase of a cone or cup, per USA Today.
If you're a sucker for a freebie (I mean, who isn't) I'd suggest heading to BurgerFi on Wednesday to get your cup of frozen goodness completely gratis. Simply mention their National Frozen Custard Day deal, and you'll get a complimentary small custard. Keep in mind that, per the fine print, the offer is only valid on in-store orders and it cannot be combined with any other offer or special.
A few chains are also giving visitors the chance to win free frozen custard. Out of all the Culvers fans who share their love in the comments section of their Facebook post, 25 individuals will be selected at random to receive a free scoop.
If you happen to be near an Abbott's Frozen Custard location, you can also take a guess on how many gallons of frozen custard they're making for the holiday, according to USA Today. The prize for the closest guess? Three whole pints of creamy goodness. That's a whole lot of frozen custard that you could potentially have in your freezer, completely free of charge.
With August 8 almost upon us, there's never been a better time to start making preparations for the annual holiday (Wednesday also happens to be National Sneak Some Zucchini Onto Your Neighbor's Porch Day, and International Cat Day, but I digress). Trust me: If you loved National Ice Cream Day, this is officially going to be your new favorite day of the year.