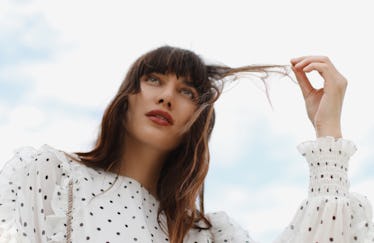 Natalie Off Duty's Macy's Line Will Let You Dress Like An Influencer For Cheap
Dylana Suarez for Inspr
Brands have realized that customers don't just want to look at influencers' styles, they want to emanate them. Natalie Off Duty's Macy's line is the latest collaborative effort launched between a blogger (in this case Natalie Lim Suarez) and a major retail and it's actually really good. Like, would-shop-without-the-Insta-famous-designer good. Created in collaboration with Inspr, a new socially driven and socially responsible fashion label, the collection boasts an offering of dresses, tops, co-ords, and pants and ranges between $50 - $129. Not bad at all, considering most of what Suarez wears on her immensely popular Instagram page is designer and the collection is meant to emanate her style.
It's made for the girl who wants to stand out," Suarez said of the line in an interview with Women's Wear Daily. "I'm all about color and boldness, so everything is very unique. It's for the woman who appreciates her feminine side, who sees the dress as the foundation of her wardrobe. My readers want that high-fashion piece that isn't going to break the bank, so this is the perfect partnership to do that."
Indeed, the collection features ample ruffles, feminine details, and a dappling of bright colors. But everything looks elevated, trendy, and like something Suarez would actually wear. Now if we could just get her styling hacks for each piece...
Shop some of my favorite picks from the collab below. (Unfortunately the standout piece, a polkadot maxi dress, is unavailable—but there's still tons to choose from.)
Chop Crop
I love the cropped silhouette of this boxy denim jacket, and the fact that it comes with a matching mini skirt even more...
Canadian Tuxedo
At first glance, this looks like your average denim skirt. But peep its pockets for a second time and you'll notice a quirky little design detail that makes all the difference. Deconstructed, but subtly.
You Are My Sunshine
My first thought upon seeing this dress was "Tracee Ellis Ross needs to wear this!" Its balloon sleeves, sashed waist, long skirt, and collar totally scream her style. Which, if you haven't noticed, has been absolutely ace as of late! This would be a standout piece to wear to a fall wedding.
Connect the Dots
Slightly French, non? Between its cute polka dot print, ruffled neck detail, and ruffled cuffs, this top is the perfect balance between playful and pretty. wear it with a black leather mini and black pointy toed boots and it'll take on a decidedly edgier vibe. (Think Saint Laurent!)
Optical Illusion
Nope, this isn't a dress! This jumpsuit gives the illusion of having a skirt when really it just features super wide legs. The gathered waist detail and deep V neck make it look a little dressy, which I love. Wear it with sneakers or heels and it'll look great.
Puff Daddy
The silhouette of this top is epic thanks to its balloon sleeves and almost architectural gathering at the waist. And its bright mustard color? Optimal for fall.