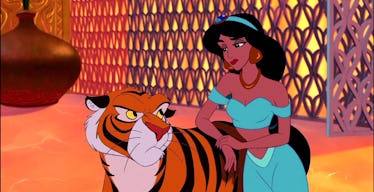 Live-Action 'Aladdin' Will Replace Tiger Rajah With A New Human Played By 'SNL' Star
Disney
There's one major character from the original Aladdin that fans won't be seeing in the new live-action remake: Jasmine's pet tiger Rajah. The new Agrabah will be a tiger-free zone, with the upcoming remake replacing Rajah with an invented human character named Dalia. Just as Rajah served as Jasmine's closest friend and confidant in the 1992 Disney cartoon, Dalia will be a handmaiden for the princess who is also her close friend. The new Jasmine, Naomi Scott, revealed some details about the new character replacing Rajah in Aladdin in an interview with the Hollywood Reporter.
Dalia will be played by Nasim Pedrad, the comic actress best known for her stint on Saturday Night Live from 2009 to 2014. More recently, she's starred in sitcoms like Mulaney, New Girl, and Scream Queens. Pedrad's extensive background in comedy would suggest that her new Aladdin character Dalia may serve as comic relief, but Naomi Scott says that Dalia serves a more important purpose. Namely, Dalia will add some much needed girl power to the story of Aladdin, which Scott points out only included one female main character in the original.
Naomi Scott said that the added representation in the newly created character of Dalia will show audiences a whole new side of Princess Jasmine, in how she relates to other women. It will also add another level of relatability for viewers, since female friendships are much more common than human-tiger friendships anyway.
I never realized it, but in the animation, Jasmine is really the only female character — isn't that crazy? The Dalia character is so important to this movie because she's the only other female character. She may be the handmaiden but they're best friends; they're so close because they've grown up together. So we wanted people to watch the movie and see Jasmine's relationship with another woman, and be like, 'Ah, that's what I'm like with my girlfriend,' or 'We would so do that if I was in that position.' That's something that's missing from the animation.
Dalia is one of the two new character's that the live-action Aladdin is adding to the classic Disney story. A couple months ago, the production announced it would also be adding a new prince that did not appear in the original, a suitor for Jasmine's hand in marriage named Prince Anders who will be played by Billy Magnussen. However, that casting announcement was mostly met with derision and anger from fans, who were upset that the movie invented a character to cast a white actor in the role. Up to that point, the casting process was being praised by fans for giving the main roles to actors that are actually of Middle Eastern descent.
Nasim Pedrad and Billy Magnussen's new characters join the old classics, with Jack Ryan star Mena Massoud as Aladdin and Power Rangers star Naomi Scott as Jasmine. The biggest star power in the flick comes from Will Smith, who will be taking up Robin Williams' comic mantle as the Genie.
So now that we know we won't be seeing any tigers in the live-action Aladdin, that leads me to a crucial question: Does that mean all animal sidekicks are out? Aladdin's monkey buddy Apu and Jafar's wise-cracking parrot Iago were major parts of the original animated movie, but so far there's been no news about whether or not the remake will include them. This revelation that Rajah won't appear in the movie and instead be replaced by a human character could be the first clue that that the remake is planning to either nix or recast Apu and Iago as well. I guess we will just have to wait and see what they decide.
The live-action Aladdin is set to premiere on May 24, 2019.