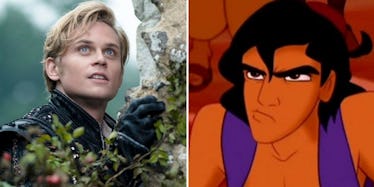 Live-Action 'Aladdin' Just Added A Token White Character And Twitter Is Pissed
Disney
From the beginning of its casting process, the team behind the upcoming live-action remake of Aladdin has made it a point to cast Middle Eastern and Indian actors in the main roles, so maybe that's why the movie's latest casting announcement is being met with criticism online. The live-action Aladdin cast added a new character to their movie not seen in the original, and brought on a white actor to portray him, as reported by The Hollywood Reporter. The move is already being dinged on Twitter, as fans quickly jumped on the confusing decision to insert a previously nonexistent white character into the Middle Eastern-set story.
Now, the updated Aladdin movie will include a second prince played by Billy Magnussen. Details are still being kept under wrap about what role the newly added Prince Anders will play, but if I had to guess, it sounds like he'll be some royal competition pit against Aladdin for Princess Jasmine's heart. Prince Anders is actually the second new character the live-action remake is adding that didn't appear in the original 1992 animated movie, but Nasim Pedrad's Mara (described as a handmaiden and friend to Princess Jasmine) isn't drawing the same ire as Magnussen's new prince. That's because the original movie didn't include any white characters, and fans are accusing the team behind the remake of creating the role just to include a white actor.
Fans were quick to criticize the casting decision on Twitter, calling it unnecessary and disappointing. Check out some of the best reactions to the new prince news below:
This will actually be the second time Billy Magnussen plays a Disney prince — he played Rapunzel's prince in 2014's Into the Woods. He joins relative newcomers Mena Massoud and Naomi Scott as Aladdin and Jasmine in the new film, along with Marwan Kenzari as Jafar and Will Smith as The Genie. The movie is expected to be released sometime in 2018.