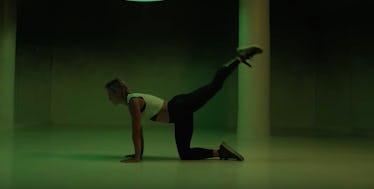 I Went To A SoulAnnex Class & It Was The Most Chill Workout I've Ever Had
I'm going to be totally honest with you: I don't like cycling. The idea of high-intensity cycling to the point where you're blinded with sweat, to the point where you basically need to go purchase a hearing aid after class because of the aggressively loud music, has just never been my jam. While I'm aware that I'm most likely in the minority here, I know there are some of you out there who feel me. And lucky for us, SoulAnnex classes are here to the damn rescue.
If you're undeniably devoted to everything Soul-related, I'm sorry if I offended you with my aversion to cycling. But whether you're a total slave to the bike, or you can't stand the thought of "finding your Soul" via an hour of fervent cardio, SoulAnnex is an innovative middle ground for us all to congregate at in peace.
After much anticipation, SoulAnnex opened its doors on Monday, Oct. 2, 2017 in the Flatiron district of Manhattan. Fast-forward a couple of months later, and here I am, finally deciding to venture out and try this bike-less version of SoulCycle.
To give you the gist of what SoulAnnex is actually all about, and how it differs from SoulCycle, it's basically a bunch of classes that were custom-created by senior SoulCycle instructors.
But what makes these classes different is that they allow you to strengthen and express yourself in all areas of wellness — without the usual SoulCycle bike in the picture.
There are a variety of classes to choose from when doing SoulAnnex, which all fall under three different categories: "move," "define," and "align." I personally decided to opt for one of the "align" classes called Restore, taught by senior instructor Danny Kopel, for my first SoulAnnex experience.
The class was described as a transformative experience that combines gentle yoga asanas, deep stretching, breath work, and meditation to relieve any anxiety and stress, and repair your body from the inside out. Kopel's class is one of only two completely restorative classes on the SoulAnnex list.
In my opinion, this low-key SoulAnnex experience is an excellent complement to its high-intensity counterpart of SoulCycle.
In an exclusive interview with Elite Daily, Kopel tells me he created this class because, in his experience, he's found that he needs a "peace-inducing practice and something that lets [him] get grounded, feel his [body], and breathe." The Restore class is meant for "anyone who needs a slow, restorative class that includes components of wellness and mindfulness."
As a yoga instructor, I really dig anything that includes some deep breathing and luscious stretching. So naturally, I was totally down to try it.
When I entered the SoulAnnex Restore studio, my gaze was instantly drawn upward to the calming, yet vibrant purple hue above me, and I couldn't help but notice we were all surrounded by flickering candles. Honestly, I never knew that a purple-lit room could melt away my stress until that moment, but hey, stranger things have happened, people.
As we settled onto our mats, Kopel began to lead us through a sequence of relaxing and rejuvenating yoga stretches.
Everything was extremely gentle and soothing for my body, and I never once felt like I was exerting too much effort or pushing myself in any way.
The best way I can describe the class is that it genuinely just felt like a yoga practice, but without any of the strengthening properties. It was really focused on stretching and repairing every muscle in your body, and it felt amazing from head to toe. I'd definitely recommend the class to anyone who's experiencing any workout-related soreness or aches and pains. But if you're looking for something that challenges your muscles and your ability to build strength, one of the other SoulAnnex options might be better suited for you.
The class concluded with a lovely, meditative relaxation that invited us all to allow our minds to wander and our bodies to loosen up. The scent of lavender suddenly enveloped everyone in the room, diffusing throughout the air and providing a sense of tranquility and contentment.
SoulAnnex's Restore class is essentially the opposite of everything you've ever perceived SoulCycle to be. It's the perfect yin to cycling's yang, and it's great for an incredibly chill, active rest day, or any time you simply need some major TLC.