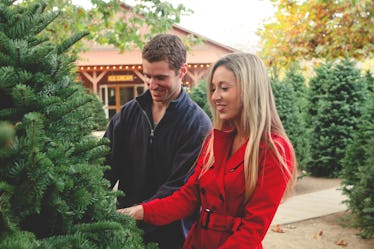 My First Time Celebrating Christmas With My Boyfriend Completely Changed How I Felt About The Holidays
When I was three years old, my babysitter Amy took me to Bloomingdale's on the Upper East Side to meet Santa Claus. My parents were unaware of our field trip, and I waited in line with bated breath, bursting with excitement to meet the big man in red for my first time celebrating Christmas. When my turn finally came, I felt compelled to give it to Santa straight and confessed that as a Jew, I wouldn't be partaking in his holly jolly holiday. Without missing a beat, Santa replied, "That's OK, my wife is Jewish," and asked me to lay my Hanukkah hopes on him. This story has been fondly remembered in my family for years, and even landed me in the New York Times.
That brief encounter with Santa was the closest I ever got to participating in Christmas as a kid. There's no one-size-fits-all method for dealing with Christmas as a Jew. Some families fill their homes with fragrant pine trees decorated in blue and white lights, while others refuse to trick their children with tales of a magical man delivering presents overnight. I was raised to believe in Santa — most likely to avoid a playground disaster where I tried to convince the other kids that he wasn't real — but I knew he wouldn't be dropping by my family's brownstone any time soon. On Christmas Eve, I'd lay in bed, gazing out the window in hopes of catching a of glimpse of Santa and his reindeers en route to delivering presents to my lucky, Christian friends.
Don't get me wrong. It's not that Hanukkah is bad at all. It's just that I thought Christmas was better. Perhaps it's not quite as apparent to those participating in it, but Christmas dominates everything from Thanksgiving until New Years Day. The New York City streets are carefully dipped in wreaths, lights, and tinsel the moment the last bite of cranberry sauce disappears. Every commercial on TV features kids in red and white pajamas opening presents under the tree with their smiling parents. Christmas movie marathons burst with seasonal cheer. As a kid, it's impossible not to want something that seems to make everyone around you so darn jolly!
I tried for years to bring elements of Christmas into my family's arsenal of traditions, but my efforts were pointless. Even my miniature (and I mean miniature) Christmas tree was forced into the trashcan when my Mom caught wind of it. So by the time I flew the nest, I was excited to welcome Christmas cheer into my adult life.
My mom's famous latkes, topped with smoked salmon and roe. We win Hanukkah.
I never cared much about marrying within the Jewish faith (sorry, Mom!). And besides, dating Christian guys meant I could celebrate Christmas with them. My first Christian boyfriend (all right, first boyfriend, period) and I broke up right before Thanksgiving two years in a row, obliterating my chances of going home with him for the holidays.
My next boyfriend's family had a replica of The Last Supper hanging in their dining room. Needless to say, our rooms were on opposite sides of the house. Their version of the holiday was more Christmas church than holiday cheer, which I politely avoided like my people did the 10 plagues.
After my brief, unsuccessful foray into dating the truly devout, I took matters into my own hands and got a Christmas tree with my roommates. Finally!
I spent the fall of 2014 on a series of excruciating first dates that resulted in me wanting to join an all-female commune in Vermont; there are only so many times you can listen to a dude mansplain Radiohead before throwing in the towel. Thankfully, my patience paid off when I met my boyfriend, Will, that November. We hit it off right away, and besides being gainfully employed, very cute, and seemingly sane, he was raised celebrating Christmas! Our relationship was too new that first year to suggest shared holiday plans, so by the time December 2015 rolled around I was eager for my invitation to Jesus' birthday party.
Will and I hosted 20 people at his neighbors' apartment upstairs. Aided by his mom and her phenomenal Southern cooking skills, we spent the day listening to Christmas carols while cooking up a storm in his cozy apartment. That evening, we gorged ourselves on honey ham, roast turkey, and ooey-gooey baked mac 'n cheese, followed by pie after pie of flakey crusted goodness. We opened presents amongst friends and family, and reveled in the full-body bliss that comes from knowing you have the next week off work.
I got distracted while decorating the tree.
And while I had a thoroughly delightful day, Christmas was totally... meh. It seemed to me that Christmas food is just Thanksgiving food: December Edition. Christmas music is jarring, at best, by December 25 when you've heard it over every store sound system for the past month. And Christmas trees involved a lot of clean up. At least the menorah doesn't shed!
It took years of pining after Dasher, Dancer, Prancer, Vixen, Comet, Cupid, Donner, and even Blitzen to lose the holiday envy of my childhood, but it's gone. Traditions are what make the holidays special, and Christmas will never be mine. And that's fine. Washing a movie down with copious amounts of Chinese food on December 25 along with every other Jew in Manhattan? That's my happy place.
You can't just glom onto someone else's family fun without feeling a tug towards the memories you hold most dear. As a kid, I felt deprived from partaking in the best day of the year, but now I see that my happy holiday memories are just as special as everyone else's.
At 28, I'm more interested in starting my own traditions than going in search of a childhood experience I felt I missed out on. Being in an interfaith relationship gives me and Will even more holidays to celebrate, whether it's eating caviar-topped latkes with my parents or decorating the tree with his. This year we're skipping it all and going to Mexico, which might just be the best holiday plans of all.
Check out the entire Gen Why series and other videos on Facebook and the Bustle app across Apple TV, Roku, and Amazon Fire TV.
Check out the "Best of Elite Daily" stream in the Bustle App for more stories just like this!