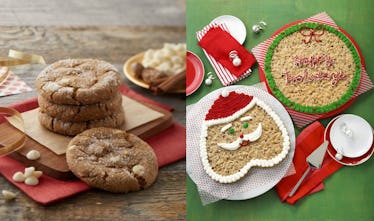 Mrs. Fields Is Dropping A New Holiday Cookie & This Deal Will Help You Get It Cheap
Mrs. Fields
I usually come away from Cyber Monday bearing the usual suspects: a brand new speaker system, maybe a few cute sweaters or jeans, and most likely some sort of fancy kitchen appliance. But, this year, my ultimate Cyber Monday goal is to come away with as many super inexpensive — and straight-up delectable — sweet treats as humanly possible. Lucky for me, Mrs. Fields' Cyber Monday 2018 sale looks absolutely incredible, because they're giving customers a major discount on their entire online selection of cookies. Needless to say, I'll be dining like a sugar queen until Christmas.
I don't know about you, but I grew up with Mrs. Fields cookies in my high school cafeteria and it pretty much goes without saying that snagging one during lunchtime made for a really, really solid school day. So, if you want to have unlimited good days for all eternity, the brand known for their delightful, freshly baked cookies is currently offering the best (and the sweetest) deal on Cyber Monday (which falls on Nov. 26 this year). According to the brand's press release, you'll be able to get an entire 25 percent off your entire purchase site-wide as long as you use the code "CYBER" at check out. No, this isn't a dream, but it sure does feel like one.
If at least a small portion of your discounted purchase doesn't go towards a Santa Claus cookie cake this holiday season, I'm going to be really, really disappointed in each and every one of you.
Anyway, in addition to the cookie company's glorious sale, they'll also be releasing a brand new (and limited edition) Christmas cookie on Black Friday (on Nov. 23 this year). Yep, you've never tried anything like it, and it's totally going to change the way you view sweet holiday treats. The flavor itself is actually new twist on an old favorite: it's Gingerbread White Chocolate, according to a press release, which could literally outdo any old gingerbread man. Just one bite and your taste buds will be dancing through spicy ginger and warm, gooey white chocolate galore. Um, yeah, I'll take 13, please.
OK, for real, though, how good do these babies look? Step aside, boring old sugar cookies, because my stomach is literally howling at the sight of these.
Once you've gotten to munch on your fair share of cookies, however, Dunkin' Donuts is releasing two new festive treats just in time for the holidays: the Dear Santa Donut, which is smothered in chocolate icing and topped with a powdered Munchkin donut hole to look like Santa's belt and buttons, and the HERSHEY'S® KISSES® Donut, which is topped with vanilla frosting and Hershey's Kisses. Both will be available to order in DD restaurants as of Nov. 19, so hang tight.
Whether you're looking to engorge yourself in boxes and boxes of cookies or if you'd rather taste a new Christmas cookie flavor, Mrs. Fields is bringing tons of festive fun during the few days following Thanksgiving... so, get excited. And, just remember, regardless of how full you are from Thanksgiving, you always have room for an extra cookie in your stomach.