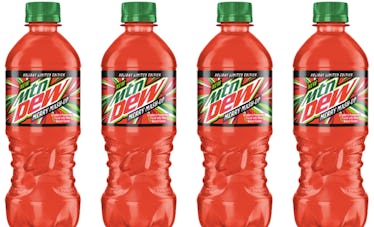 Mountain Dew's Holiday Flavor Features A Cranberry-Pomegranate Mashup You'll Love
Courtesy of Mountain Dew
As you probably know, there are a ton of festive caffeinated beverages making their seasonal debuts (hello, Peppermint Mocha) — but not all of them are lattes. Believe it or not, a holiday-inspired Mountain Dew just hit the market, and it'll give you just as many wintry vibes as the coffee drinks will. That's right: Mountain Dew Merry Mash-Up is here to give coffee drinkers a way to celebrate the season with every sip. Plus, its red-and-green bottle decor will surely put you in the holiday spirit.
Before I get into detail about the bottle's festive aesthetic and the soda's sweet flavor, let's talk about the basics. Mountain Dew Merry Mash-Up was officially announced in a PepsiCo press release on Nov. 28, 2018 — but you might have seen it on the shelves before its internet debut. In fact, Mountain Dew enthusiasts first started spotting the beverage in stores on Nov. 5, 2018. In other words, the holiday Mountain Dew flavor has already been in plain sight for a majority of November. Go figure.
Even so, PepsiCo's announcement introduced the holiday flavor amongst a bevy of additional holiday products — but Mountain Dew Merry Mash-Up certainly stood out from the rest.
Why? Because one look at its bottle will automatically put you into the holiday spirit. Between the drink's red color and the bottle's green cap, I feel like I could put one it on display in my home around Christmastime. Plus, Mountain Dew's original color scheme is showcased on the label, which throws off even more holiday vibes.
OK, I'm done swooning over the bottle's aesthetic. Now, let's talk about the drink's flavor. Sure, "Merry Mash-Up" doesn't exactly give many clues as to what the flavor could be. With a name like that, it could be anything. Thankfully, a description underneath the logo reveals what "Merry Mash-Up" actually means — and it sounds delicious. According to PepsiCo, the seasonal Mountain Dew flavor tastes like a cranberry-pomegranate mashup. As someone who loves both cranberries and pomegranates, I'm pretty excited about it.
In fact, I'd gladly buy a 12-pack of these so I'm set for all of my holiday parties.
Thankfully, Mountain Dew Merry Mash-Up won't be hard to find. According to a Mountain Dew spokeswoman, the holiday drink is available nationwide. However, since it's a seasonal flavor, it'll only be available for a limited time. So if you're hoping to stock up, do so while you can.
If you want to stock up with a 12-pack, you can buy one for a suggested retail price of $5.99, per PepsiCo. But if you're only hoping to give the drink a try, you can buy a 20-ounce bottle for a suggested retail price of $1.99. If you like it, you might want to buy a few more bottles for your friends and family as holiday stocking stuffers.
If you're not a soda drinker and would rather sip on holiday lattes instead, that's totally fine! Go ahead and check out Starbucks' holiday flavors, and find out which one you like the best.