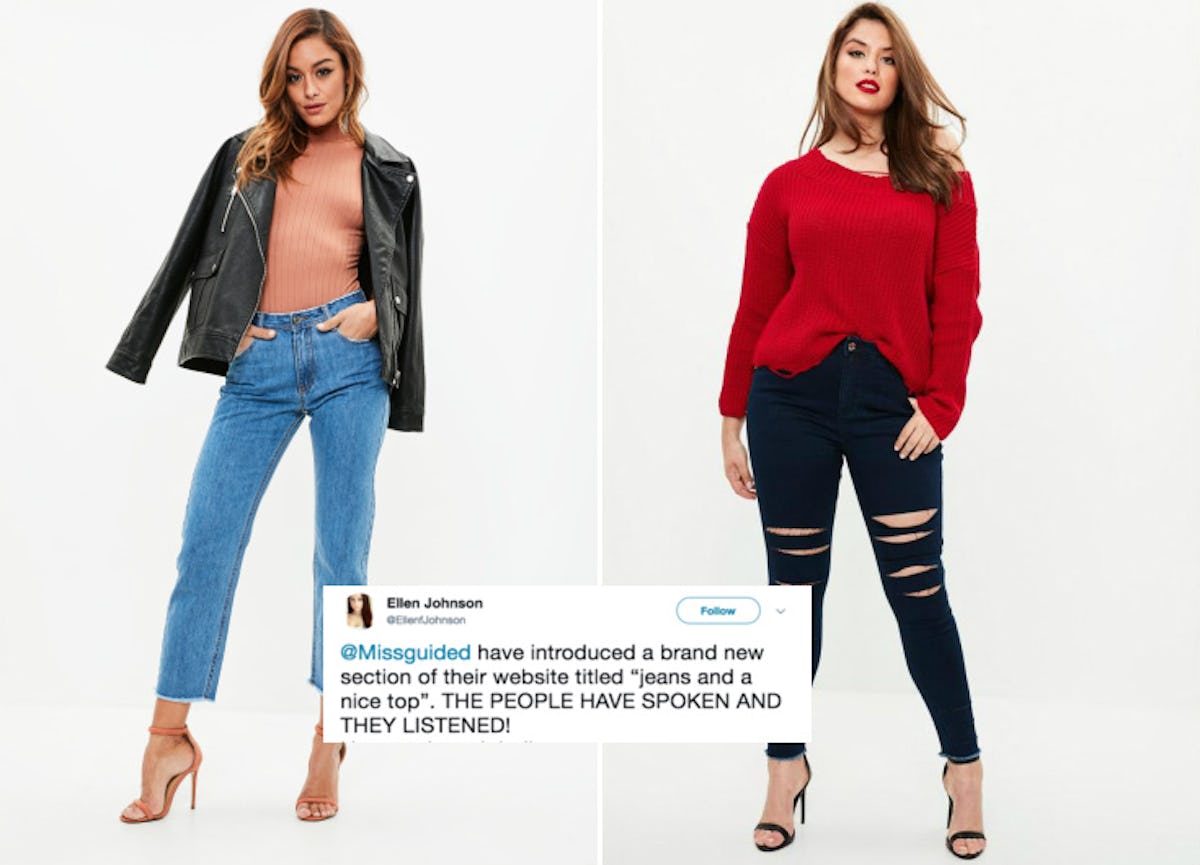 This Brand Started A "Going-Out Tops To Wear With Jeans" Section & Twitter Loves It
Missguided
If you're someone who anguishes over what to wear to an event that requires something nicer than a t-shirt but is still relatively casual, then Missguided's "Going Out Tops To Wear With Jeans" category is about to make your day. The popular retailer has been absolutely killing it with their inclusive campaigns and commitment to celebrating body positivity and diversity as of late, and this cements them as a modern brand that truly gets it.
I must admit, dresses used to be my go-to fashion choice. When I was younger, I went through a five-year phase where I refused to wear pants. The few odd times that my mom was able to wrangle me into a pair of jeans I insisted on wearing a tutu over them. Throughout college, dresses were also my sartorial MO. I think it's because they make it easy to look super cute with very low effort. Throw a dress on and you immediately stylish and put together; painstakingly assemble an outfit involving multiple pieces of clothing and it has the potential to look plain ugly.
The easiness and thoughtlessness of the dress always appealed to me until I started getting more into the tomboy-meets-'90s-babe look I've got going on now, which involves too many mom jeans and crop tops and Vans sneakers to count.
The thing is, I've realized I wear the same jean/ top combo just in slightly different iterations over and over again. I stick to hi-rise denim and a black shirt without fail. This classic, mindless combo has become what dresses once were to me: a sartorial crutch that takes the effort out of dressing. And while I love the look and will never stop wearing it, I also realize that it gets boring. Fast. I need to change things up, but seeing as I love my jeans (vintage Levi's, holey boyfriend jeans, etc.) like my unborn children, it's got to be my tops that get the remix.
Which is why Missguided's new page — which only features an expertly curated selection of dressier tops that will pair perfectly with jeans—is about to change my life. Or my closet, at least. It makes shopping for the perfect look for date night, brunch, a trip to the museum, a night out dancing, et cetera so incredibly easy and takes the stress out of figuring out which pieces in your wardrobe will go with your pants. Because these literally all will. And Twitter is stoked about it:
Although the entire roundup of tops is legitimately amazing, I picked out five that would breathe a new life into my stale sartorial routine below.
Classic Act
I know, I know, this top is black. But is has bell sleeves and ties at the front and features a super silky shine, so can you blame me?
Hot Tamale
I love the subtly sexy knot detail on this crop top! It's the perfect answer to a shirt for a casual yet flirty night out in cold, wintry months.
Flower power
The ruffle detailing on this top is so perfect. The big bell sleeves give it a Woodstock vibe, but the silhouette is just fitted enough to give it a nice defined shape.
Bright Young Thing
I've been super into sunnies with tinted yellow lenses, which would look amazing with this canary yellow bodysuit. I love the '90s-esque straight neckline and ribbed detail. With some boyfriend jeans and gold earrings? Perfection.
Canadian Tuxedo Redux
I love a blue-on-blue look and feel like this top with some high waisted baggy pants would give off some serious Aaliyah vibes! It's a cooler version of the Canadian tuxedo.