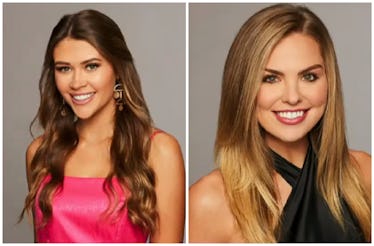 There's Already Drama Brewing On 'The Bachelor' Between These 2 Contestants
ABC
On The Bachelor, it's usually clear when women aren't used to parading around in glittery ballgowns, but on the upcoming Season 23, look out for two contestants who are more than comfortable in formal wear. In a franchise first, Miss Alabama and Miss North Carolina 2018 are on The Bachelor this year. Well, at least we can count on two women who will have a strong walk from the limo.
When all 30 Bachelor contestants were revealed in a Facebook livestream on Dec. 6, 23-year-old Hannah B. and 23-year-old Caelynn were singled out as being familiar with each other prior to the show. Hannah currently serves as Miss Alabama 2018, while Caelynn holds the state title as Miss North Carolina. As anyone who has seen Toddlers & Tiaras probably knows, the pageant world is a small one, so it isn't a surprise that these women have met each other before. But is their beauty queen world so small that they have past beef with each other?
It wouldn't be the first time contestants have previously met each other or even the season's lead. Even though the fact wasn't shared on TV, Lauren Burnham's limo exit on Season 22 of The Bachelor actually marked the second time she met future husband Arie Luyendyk Jr. The first night of Becca Kufrin's Bachelorette season was then dominated by one man warning her about what a friend told him about another contestant. Given the catty stereotype pageants often receive, can we expect some tension between Hannah and Caelynn on Night One at Bachelor Mansion?
As the first runner-up in the Miss USA pageant, Caelynn appears to have a tad more prominence in this industry. According to Bachelor spoiler king Reality Steve, Caelynn caused some upset at home when she was unable to crown her successor at this year's Miss North Carolina pageant. She was obviously jetting around the world or hanging out in the mansion with fellow Bachelor ladies at the time, but failing to show support to your fellow pageant girls is apparently a big no-no. We'll have to wait and see if this issue comes up on TV, but based on the latest Bachelor promo, it looks like Caelynn showed off her pageant sash upon arrival at the mansion.
Meanwhile, Hannah seems to have faced a bumpier road while competing in pageants. An Alabama News Center report on her state win reads:
Her early career included selection as first runner-up in Miss Alabama Outstanding Teen, followed by second runner-up in Miss Alabama Teen USA. However, as she entered the Miss Alabama system, Brown failed to make the top 15 four years in a row.
The article also cites her struggles with anxiety and depression, which inspired Hannah to start a school program focusing on finding joy. She told the outlet, "It is not always a walk in the park to be a human on this Earth. We all have struggles. To say every day is easy, it's not... But to be able to talk about that, and to be able to be honest about that is the best way to be able to solve this issue."
If ABC was in charge, we could probably bet on Hannah and Caelynn having an ugly snafu over a ripped dress, but we'll give them and their relationship the benefit of the doubt until we see otherwise. If the season trailer is anything to go by, other women will deliver more than enough drama to satisfy us.
Season 23 of The Bachelor premieres on Monday, Jan. 7, at 8 p.m. ET in a live, three-hour special on ABC.