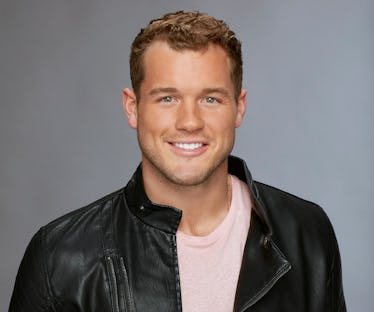 Colton's 'Bachelor' Contestants Are Here, So Start Studying
ABC/Craig Sjodin
Another day, another crop of Bachelor contestants destined for glittery gowns, bottomless glasses of wine, and Paradise bikinis. The official cast roster for Colton Underwood's season of The Bachelor is out, and it's time to update your Bachelor Nation fantasy leagues. Colton's Bachelor contestants look like some fierce competition.
Seeing as 26-year-old Colton is the franchise's youngest leading man since Season 20's Ben Higgins, a younger group of women was a guarantee for this year's round of frantic matchmaking. We probably won't have any Bekah M.-esque secrets about age this time, but we could always start a tally of how frequently the contestants use fresh, hot slang with a meaning most of us just barely understand. I'll try to avoid thinking of Bachelor in Paradise until after Christmas, but we're in for a pretty dramatic summer with this younger crop of women and the upcoming Bachelorette season's men likely being in their mid-to-late 20s.
Host Chris Harrison introduced all 30 of the new Bachelor women in a Facebook livestream on Dec. 6, repeating the same process used for The Bachelorette's contestant reveal earlier this year. By now, most fans can read Harrison like a book, so if you want to make some stellar season predictions, watch his face closely during a rewatch of the video.
So, who's competing for Colton's ultimate rose? Let's take a look at the latest members of Bachelor Nation.
Alex B.
Alex is a 29-year-old dog rescuer from Vancouver. She was apparently ill on Night One, making her attempts to get Colton's attention difficult.
Alex D.
Alex is a 23-year-old "sloth" from Boston. It appears that she's earned that title thanks to a slow limo entrance.
Angelique
Angelique is a 28-year-old marketing sales person from New Jersey.
Annie
Annie is a 23-year-old financial associate living in New York. As one of the three women Colton first met on The Ellen DeGeneres Show, she won Ellen's "Know or Go" game and presumably had a few minutes of getting to know Colton before the rest of the cast. Harrison labeled her as one to keep an eye for during the season.
Bri
Bri is 24 and works as a model in Los Angeles.
Caelynn
Caelynn is 23 and the reigning Miss North Carolina. She was also the first runner-up in the Miss USA pageant.
Caitlin
Caitlin is 25 years old and works as a realtor in Toronto. She makes a "popping" impression on Colton, which we see in the latest Bachelor promo.
Cassie
Cassie is a 23-year-old speech pathologist living in California.
Catherine
Catherine is a 26-year-old DJ in Florida. Harrison hinted that she may receive the villain edit and will bring her pet dog to the mansion with her.
Courtney
Courtney is 23 and works as a caterer in Atlanta, Georgia.
Demi
Demi is a 23-year-old interior designer from Dallas who is "one to watch," according to Harrison.
Devin
Devin is 23 and works as a broadcast journalist in Oregon.
Elyse
Elyse is 31 years old and a makeup artist originally from Alaska. As one of the oldest women, she becomes the mom of the cast.
Erika
Erika is a 25-year-old recruiter from California.
Erin
Erin is 28 and deemed a "Cinderella." She lives in Dallas.
Hannah B.
Hannah is a 23-year-old pageant queen who's currently Miss Alabama. She knows Caelynn from the pageant world, which may stir some drama.
Hannah G.
The second Hannah is also 23 years old and works as a content creator in Alabama.
Heather
Heather is a 22-year-old Californian and has never been kissed. Suffice to say, she's the token virgin contestant of the season.
Jane
Jane is a 26-year-old social worker.
Katie
Katie is a 26-year-old medical sales rep who reportedly drops a bomb on Colton during the season. She was one of the girls first introduced on Ellen but was eliminated in their getting-to-know-you game almost immediately.
Kirpa
Kirpa is 26 and works as a dental hygienist.
Laura
Laura is a 26-year-old accountant. She lives in Dallas, Texas.
Nicole
Nicole is a 25-year-old social media coordinator living in Miami, Florida. She may beat out Bachelor mainstay Ashley Iaconetti as the queen of tears.
Nina
Nina is a 30-year-old sales account manager from Raleigh, North Carolina.
Onyeka
Onyeka is 24 years old and from Dallas, Texas. She works as an IT risk consultant. Having a Nigerian background, she grew up in Kansas.
Revian
Revian is a 24-year-old esthetician currently living in California.
Sydney
Sydney is a 27-year-old NBA dancer from New York, but she quit her job to film the season. She came in second place in the "Know or Go" game on The Ellen DeGeneres Show.
Tahzjuan
Tahzjuan is 25 and works as a business development associate.
Tayshia
Tayshia is a phlebotomist from Newport Beach, California, and is 28.
Tracy
Tracy is a 31-year-old wardrobe stylist now living in Los Angeles.
Here's to Colton trying to keep all of those names straight on Night One. Get your wine glasses ready, Bachelor fans, because we're in the home stretch!
Season 23 of The Bachelor premieres on Monday, Jan. 7, at 8 p.m. ET in a live, three-hour special on ABC.