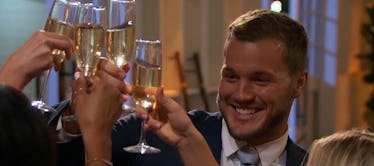 Colton's First 'Bachelor' Promo Shows Him Cracking Under The Pressure
ABC
If you're already prepping for your inevitable food baby after Thanksgiving, look no further than the first Bachelor promo for exercise inspiration. New lead Colton Underwood and his abs are featured in full glory, but it looks like sunny shots of Colton lifting tires and cuddling with contestants will definitely dwindle throughout the season. Colton's first Bachelor promo captures the former NFL player appearing to crack under the show's pressure. Time to stock up on your Monday night wine!
Premiering on Jan. 7, Season 23 of The Bachelor recruited 26-year-old Colton after he finished in fourth place on Becca Kufrin's Bachelorette season. After developing a reputation on The Bachelorette for his pre-show relationship with Bachelor contestant Tia Booth and pursuing her again on Bachelor in Paradise, fans definitely leaned toward seeing more than enough of Colton. ABC selecting him as the next leading man over fan favorites Jason Tartick and Blake Horstmann then caused a stir within Bachelor Nation. Well, whether or not you've made your peace with the choice, The Bachelor's first full teaser promises what could be...the most dramatic season ever.
Kicking off with gratuitous shots of Colton's shirtless body, the season preview first features the women canoodling with the Bachelor on a picturesque beach. The video then cuts to what a season poster has already promised — frequent discussions about Colton's virginity. One woman uses her limo entrance to confess about the lack of virgins she's dated, while Chris Harrison carefully approaches the topic of fantasy suite sex with Colton in another scene. It looks like cool Uncle Chris has eased up about discussing the birds and bees since Colton asked him about them last year.
Of course, a proper Bachelor trailer isn't complete without drama, screaming, and tears. The clips offer some insight into conflict between the women and their subsequent meltdowns, but what's even more intriguing is Colton's own emotion. After saying, "I'm scared" in a fleeting scene, he tearfully hugs a woman with a backpack, who could either be a faceless producer or a contestant who has chosen to leave early. The trailer then closes with its most dramatic moment, showing Colton storming away from Chris and vaulting himself over what are presumably the gates of Bachelor Mansion.
While Colton has tweeted since the trailer's launch to thank fans for their support, Bachelor Nation is buzzing about his feat of athleticism. Bless former Bachelorette Rachel Lindsay for once escaping Chris Harrison by ducking into the ladies' room, but Colton has taken a far more dramatic route to avoid the host. Viewers are already obsessed with finding out why he felt the need for such an extra exit.
ABC is no stranger to teasing clips that are far more theatrical than what they finally air as, but here's hoping that Colton's fence-jumping is just as ridiculous as it seems. In the meantime, start analyzing the trailer for your Bachelor fantasy league picks.
Season 23 of The Bachelor premieres on Monday, Jan. 7, at 8 p.m. ET on ABC.