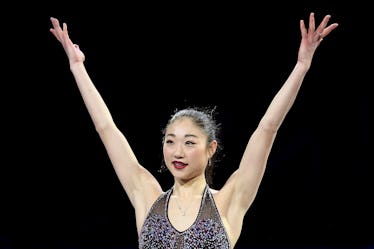 You Might Know Mirai Nagasu's Free Skate Music If You've Seen This Broadway Show
Matthew Stockman/Getty Images Sport/Getty Images
Team USA figure skater Mirai Nagasu made headlines early on in the 2018 Winter Olympics when she became the first U.S. woman to land a triple axel at the Olympics, which happened during her free skate routine during the team competition on Feb. 12. Nagasu will perform her free skate routine again for the chance to earn a medal on Friday, Feb. 23 (Thursday night in the U.S.) in the individual competition. While everyone will keep a close eye on her skating, people are also interested in her music selection. Mirai Nagasu's free skate music is from a Broadway show, and it adds a special meaning to her performance.
Nagasu skates to selections from the Broadway musical Miss Saigon, which was written by Claude-Michel Schönberg (who composed the music) and Alain Boublil in the late 1980s, in her free skate. Nagasu told InStyle that she saw the live show of Miss Saigon in New York City and thought it was "amazing." It makes sense that Nagasu was inspired by Miss Saigon in order to choose the music for her long program performance, and Nagasu explained that she appreciated how "Miss Saigon sacrificed herself for her son to have a better life."
Nagasu beautifully skated her long program set to the music of Miss Saigon at the 2018 U.S. Figure Skating Championships in January where she scored a silver medal for her performance. You can see a video of that here:
Not only does Nagasu have an appreciation for Kim (AKA the titular "Miss Saigon"), but Nagasu also revealed to InStyle that the music from Miss Saigon helps her dig deep and push through the tough spots of her performance. Nagasu said that whenever her legs are feeling tired during her long program, she thinks about "Kim making the ultimate sacrifice," and then Nagasu is able to muster up the strength she needs and "really go for it." She definitely went for it as she skated her long program while representing Team USA when Nagasu landed the historic triple axel. As the sounds of Miss Saigon played, Nagasu successfully completed the ever difficult jump that requires three and a half rotations in the air.
Not to get all Theater 101 on you, but the plot helps to understand why Nagasu chose the musical selections from the soundtrack to inspire her performance. If you're not familiar with the musical, Stage Agent describes Miss Saigon as a "tragedy of massive proportions" set in Saigon (Ho Chi Minh City), Vietnam in 1975 when Kim, a 17-year-old Vietnamese girl working her first night as a prostitute, falls in love with Chris Scott, an American G.I. sergeant. The city falls at the end of the Vietnam War, and the couple is torn apart, leaving Kim to raise the pair's son, Tam.
Years later, Kim and Chris reunite, but Chris is remarried, and according to Stage Agent, the former couple "must decide how to move forward." Be warned that the following is a complete spoiler. The musical ends with Tam meeting his father, Chris, and Kim fatally shoots herself so that her son may have a better life in America with his father. (If you're an opera fan and this plot sounds familiar to you, it's because the show was based on Giacomo Puccini's grand opera Madama Butterfly, which tells a similar tale but set in Japan in an earlier time period.)
Even though there is a new rule that allows music with lyrics during skating routines at the 2018 Winter Olympics, Nagasu's selections for both her free skate and short program are still lyric-free. She just likes to keep it classic.
It's Nagasu's time to shine on Friday, Feb 23 in PyeongChang (which is Thursday evening, Feb. 22 in the United States). She was previously left off of Team USA during the 2014 Sochi Winter Olympics, according to TIME, and now that Nagasu has already made history with her triple axel in PyeongChang, it's her chance to do it again with a gold medal on the line.
So, here's to hoping she can channel all of the inspiration necessary from Miss Saigon in order crush her free skate and give fans an encore performance by (once again) landing the elusive triple axel.