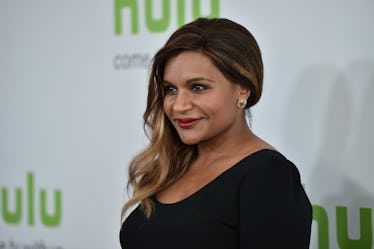 Mindy Kaling Has The Perfect Hack For Making Your Treadmill Runs Less Brutal
Alberto E. Rodriguez/Getty Images Entertainment/Getty Images
If you ask me, the treadmill is basically just a socially acceptable torture device. I mean, you're literally not moving forward in any way, and in some gyms, you're just staring at your own beet-red, profusely sweaty face in the mirror for your entire sweat sesh. I'm all about self-love, but the image of my perspiring and panting face just doesn't motivate me on any level. So, when I discovered Mindy Kaling's workout, which incorporates a small, but simple hack to make your time on the treadmill a lot less miserable, I was pretty freaking excited. Bless you, Mindy. Bless you.
Jeanette Jenkins, founder and president of the Hollywood Trainer fitness company, who also happens to be Kaling's personal trainer, recently posted a video to her Instagram page of The Mindy Project actress strutting her stuff on the treadmill while simultaneously pumping some iron with dumbbells in each hand. According to Livestrong, this simple weightlifting move works your shoulders, biceps, and forearms — and that's without adding the cardio aspect into the mix.
Rustin Steward, a trainer at Equinox Sports in New York City, told Health that adding some treadmill-walking into your upper-body dumbbell routine ups the intensity of your workout because of the additional muscles you're using to complete each of your movements.
Kaling's multi-tasking cardio workout is the perfect way to minimize your time in the gym and, well, it'll probably help take your mind off of how much you despise the treadmill.
Walking on the treadmill is an easy and effective workout on its own, sure, but let's be real: It's just boring. If you include a little weightlifting in the routine, though, that added movement can help improve overall muscular strength, and it even increases the endurance of both your upper and lower body.
Plus, Faheem Mujahid, owner of the HumanWorks training facility in Miami, told Health that adding weights to your treadmill time makes the movement a functional exercise, meaning it helps you perform everyday activities with ease. For Kaling, that might mean it's easier for her to carry her new baby (major heart eyes, amirite?), and for you and me, maybe it's lifting that heavy Amazon package (boxes of clothes weigh about the same as a newborn... right?).
Whether you're looking to revamp your current cardio routine, don't have enough time for a long workout, or you just flat-out hate the treadmill and all it stands for, Kaling's workout is sure to be your new jam, my friend.
If you're feeling really ambitious, you can even try amping up a treadmill walk with weights, to a run with your trusty dumbbells. Personally, I would 100 percent fall flat on my face if I tried that, but hey, maybe you're more coordinated than I am. Even if you think you're up to the task, though, it's important to go about workouts like this in a safe way, so you don't accidentally drop a 10-pound weight right on your foot, you feel me?
According to LIVESTRONG, if you add dumbbells to your treadmill walk or run without any specific upper-body workout in mind, it could lead to poor posture because of the extra weight that's pulling your shoulders down. Looking at her trainer's Instagram video, Kaling's got the right idea by executing those hammer curls during her cardio sesh. But if that's not for you, there are plenty of other upper-body functional movements that'll increase the intensity of your workout and decrease the monotony of your treadmill routine.
Additionally, make sure you practice any dumbbell workouts you want to do on stationary ground first, so that you know exactly what you're dealing with before you take on the treadmill.
Other than that, just have fun with it, girl! As much fun as you can possibly have while on a treadmill, that is.