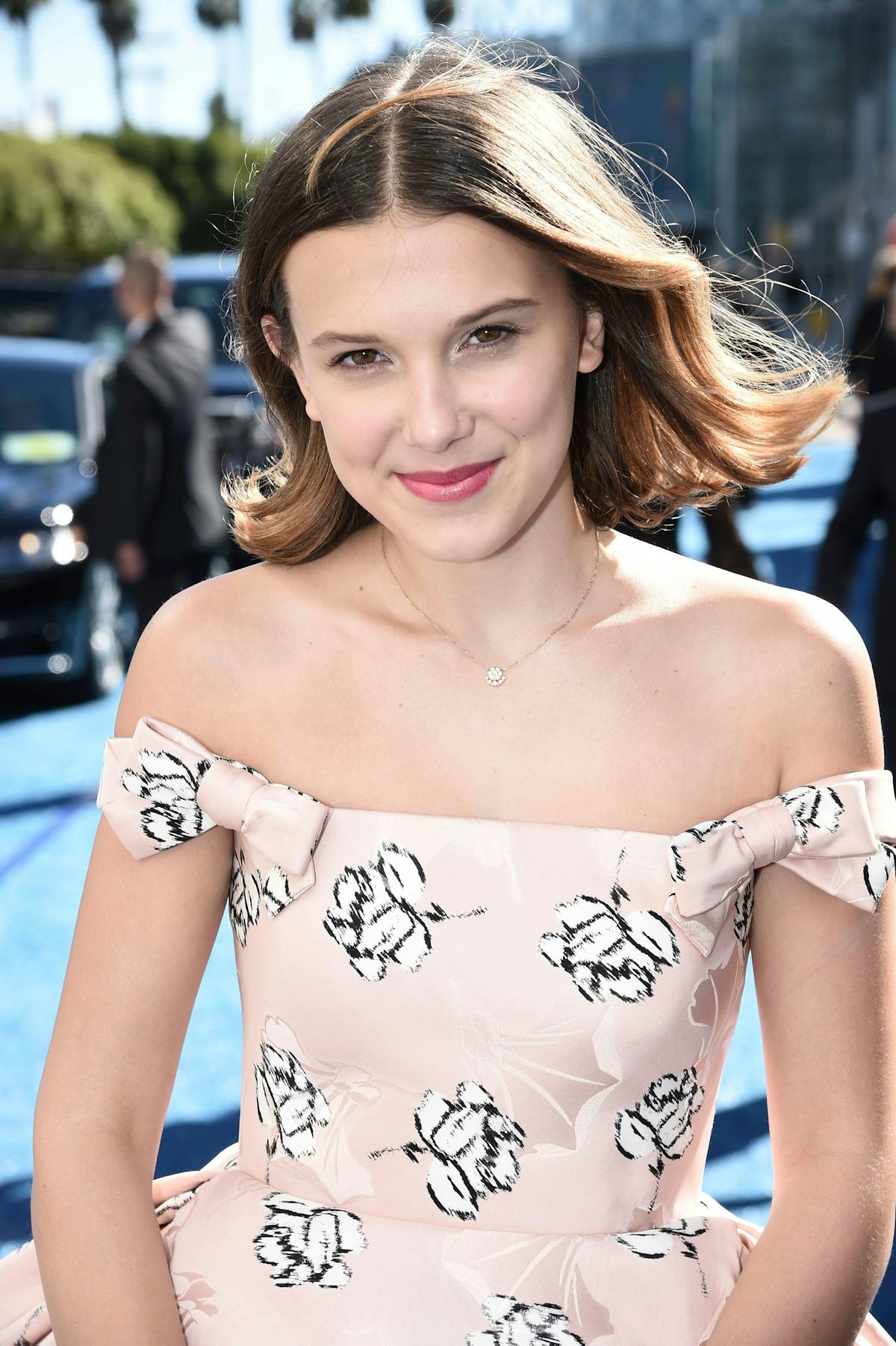 Millie Bobby Brown's 2018 Emmys Dress Looks Like A Cupcake In The Best Way
Dan Steinberg/Invision/AP/Shutterstock
Last year, Millie Bobby Brown became one of the youngest Emmy nominees in history (the youngest nominee of all time is Keshia Knight Pulliam for her role as Rudy Huxtable on The Cosby Show at only six years old). Though Brown was poised to be the youngest Emmy winner in history last year with her role as Eleven, the Eggo-toting girl with psychokinetic and telepathic abilities, on Netflix's Stranger Things, the Emmy went to Ann Dowd from The Handmaid's Tale. Now at 14 years old, Millie Bobby Brown's 2018 Emmys look is too good not to go down in history. Brown is nominated for the same category and if she wins, she'll be tied with the youngest person to ever win, Roxana Zal from Something About Amelia in 1984.
Although, I have to say, I thought the same thing about her dress last year. The 13 year old attended her second Emmy Awards in a darling whatie strapless Calvin Klein By Appointment dress wuth a full tulle skirt — it was very Audrey Hepburn at the Oscars circa 1954. The look was timeless and sophisticated, but she found sublte ways to edge it up a bit. Brown paired her princess-worthy dress with sparkly kitten heels, a black manicure, and a white bandana tied around her waist. She finished off the look with age-appropriate barely-there makeup that showed off her gorgeous skin and pulled her hair back. Finally, she passed on jewelry altogether which felt impossibly fresh.
The teenager is going up against some major hitters this year for Outstanding Supporting Actress In A Drama Series, incl uding Vanessa Kirby from The Crown, Thandie Newton from Westworld, and Ann Dowd from The Handmaid's Tale (again!). So, it's only appropriate she dress for the occasion.
And dress for the occasion she did. Brown's red carpet style tends to skew rather sweet and classic and always emits a touch of retro glam and tonight's look was no different. That's not to say it wasn't singularly jaw-dropping, though. Take one look at you'll see how Brown makes classically chic look thoroughly modern.
Starting from the top, the features gorgeous off-the-shoulder sleeves that are accented with sweet bows cut from the same floral-studded pattern that composes the rest of the dress. The fabric appears to boast a slight sheen to it and has an almost brocade quality when it catches the right light. The bodice of the dress is fitted and features a straight neckline. The skirt is where things really get fun! It balloons out into a cloud-like puff reminiscent of what princesses in the Renaissance might've sported but rather than cascading all the way to the red (or blue!) carpet, it stops just above her ankles.
This length is very characteristic of '50s and '60s style, which is perhaps why the dress gives off Audrey Hepburn vibes. Brown finished off the look with a pair of light pink pointy toed flats — an excellent choice for someone who just might be walking up a flight of stairs onto a stage to accept a very prestigious award.
I think Eleven just might be my new favorite number.