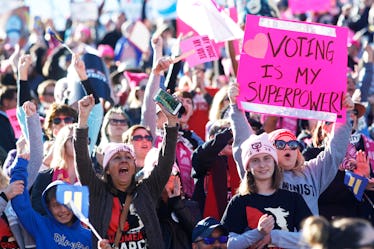 Millennials Could Change Congress, But You're Going To Need To Get Involved
Sam Morris/Getty Images News/Getty Images
According to a new NBC News/GenForward survey, millennials' political views show they're unhappy with Congress, but those findings didn't show that our generation doesn't care about policy. While many may feel a great deal of apprehension towards Congress and governing forces, a majority of millennials still maintain the Obama-era "hope and change" type of attitude towards their futures. The hope and change, however, stems from policy rather than politics.
61 percent of millennials disapprove of the way Congress is handling their job, according to the survey. Considering the past few months of anticipated government shutdowns and a failure to compromise, it's not that surprising. The survey also found that millennials hold an unfavorable view of the Republican Party, estimating about 62 percent saying so. That's not to say that a sweeping majority of them favor Democrats, either. The survey found that millennials were nearly split on their opinion of the Democratic party — 44 percent favorable to 43 percent unfavorable.
Based on that information, it would be safe to assume that millennials' jaded view of Congress and the two-party system would translate into a lack of participation or attention to politics, but that doesn't seem to be the case. When it comes to voting, millennials find it much more important to vote based on a candidates' positions on certain issues (71 percent), rather than a candidate's personal qualities (22 percent) or party affiliation (5 percent).
"This suggests that millennials care more about policy than politics and could translate to their lack of excitement about either party," Stephanie Perry and Andrew Arenge of the NBC News/GenForward poll wrote.
If that is the case, things may be looking up for our generation. An allegiance to policies that we believe in, rather than an allegiance to a party may not be a bad thing — especially if that means we are still getting involved and voting.
The survey found that half of millennials were planning to vote for or were leaning towards the Democratic party in the 2018 congressional midterm elections, while a quarter said they were planning to vote for or were leaning towards the Republican party. This aligns with predictions that the Democrats can take back Congress in 2018. As of December 2017, a record rate of new, female Democratic candidates are running in the midterms, leading some to believe the majority will be flipped.
About a quarter of millennials who were surveyed said they were not planning to vote at all in the 2018 elections and had no party preference. 12 percent of millennials who are eligible to vote said they've never voted, and of those eligible, 53 percent said they're not sure they will vote in the 2018 congressional elections.
Millennials seem to care deeply about stand-alone issues, but if many that are eligible decide not to vote, it could have a major affect on Democrats flipping Congress, and ultimately what policies and issues will be at the chopping block.
A December 2017 survey conducted by the Harvard Kennedy School Institute of Politics poll found that millennials would rather see Democrats control Congress over Republicans The polling director, John Della Volpe, said in a statement, "Millennials are now the largest generation in the electorate. This poll and the Virginia election show that they are becoming more motivated — and I believe the fear that exists today about our future will soon be turned into the fuel that will reform our government. The only question is whether this comes from inside or outside the traditional party structure."
There's a lot to be said about the power that millennials have to change government from the inside out. A generation that cares deeply about social justice and less about party affiliations has the potential to reform America's values. The only question is whether or not we will do something with our power, our voice, and our vote.